An "evangelical" cannabis dealer claimed he was selling the drug to raise funds - so he could offer them free for people with medical conditions.
Mark Burden, of Union Road, Margate, believes he has a "religious" calling as a supplier of cannabis to the needy.
The 49-year-old also alleged he is a relative of noted scientist Sir Isaac Newton and dabbles in signs and symbols.
But a senior probation officer claimed Burden's religious fervour was "just a smoke screen" for him to supply drugs and a judge agreed and sent him to prison for 17 months.
Jim Harvey, prosecuting, told Canterbury Crown Court police had gone to a block of flats in Edgar Road where Burden was visiting.
He said: "He appeared flustered and dropped an item onto the floor - which officers realised was cannabis. He was searched and in a shoebox he was carrying were 50 small bags of the drug.
"When he was interviewed he said he gave it free of charge to individuals that were suffering from chronic illnesses and pain and believed the drug brought them some help."
Burden, who admitted supplying cannabis, later claimed he and friends would raise the cash to buy large amounts of cannabis at a discount price.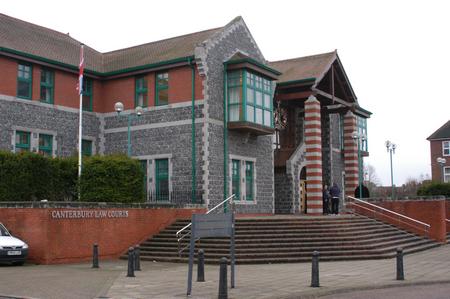 He had earlier arrived at court with two friends Julie Graham and Deborah Atkinson, planning to call them to give evidence about the benefits of taking cannabis.
Instead, his barrister Philip Rowley handed in a voluminous document - which Burden claimed was a book he had written called 'Dreamland'.
The book discusses St Mark's gospel, the Knights Templar and Sir Isaac Newton and expressed his views about the end of the world.
Before the hearing, Burden claimed: "I asked for the book to be given to the judge because God told me to write it."
Mr Rowley said: "He has now turned his back on the world of class A drugs and recognises that it has had a significant effect on him and those around him.
"At the time it was his genuine - albeit the court may form the view misguided - belief that cannabis has a beneficial on the defendant and a number of friends.
"It is also his genuine belief that he was motivated by a religious calling and it was not a cold commercial decision to sell drugs."
But an experienced probation officer concluded Burden held "extreme views about the end of the world" and believes in "symbols and signs"; adding: "He appears to be on some type of mission to save those around him."