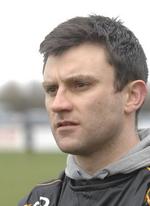 by Alex Hoad
Canterbury will face one of the sternest tests of their National 2 South campaign on Saturday with a long trip to Hartpury College, warns head coach Andy Pratt.
The third-placed Gloucestershire side are chasing the title and won 41-7 at Merton Lane in October while the city club have only won twice on their travels this season.
Pratt said: "We have scored points and challenged away at the likes of the top two Worthing and Henley but Hartpury are the one team who we have got little out of this season.
"It's going to be a big challenge for us but after a couple of weeks without a game, the lads are raring to get out and play rugby again."
Pratt (pictured) revealed the squad would hold discussions this week about avoiding a slow start.
He added: "We want to come out of the blocks fast, something we haven't done on the long trips this season."
Pratt should welcome back Pete Kelly (hamstring) but otherwise his lengthy injury-list remains with the likes of Matt Pinnock, Chris Hinkins, Tom Rogers and Tom Burns sidelined.
One piece of good news is the imminent return of blind-side flanker George Micans.
Do you think Canterbury can get a result in Gloucestershire? Have your say below.