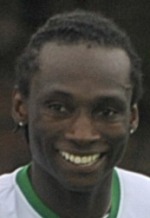 by Alex Hoad
Kwan Browne admitted he had no idea his Canterbury hockey squad were capable of the superb performances that saw them romp to first place in the National Indoor Premier Division.
After seeing his side beat four of the top sides in the country in convincing fashion to secure top spot and a national semi-final against reigning Maxifuel Super Sixes champions East Grinstead, the player-coach (pictured) confessed: "I never thought we could do what we have done."
He explained: "We lost several key players from last year's indoor season and we had six players who were thrown in at the deep end going into the opening weekend.
"Our first thoughts were about surviving and getting ourselves into a position just not to get relegated. Our plan was to keep our tactics as simple as possible and it worked well."
Canterbury were well placed for a top-four finish after the opening weekend at Burton but Browne added: "We are usually big on video and individual analysis and have all the technology but before the second weekend we kept it to the minimum and told the boys to relax and just play. It worked again."
Browne added: "This is a big deal. It's a huge achievement for a team of local boys and it has earned us respect.
"We want to showcase the club and make everyone proud."
How do you rate Canterbury's achievement in the national Premier Division? Have your say below.