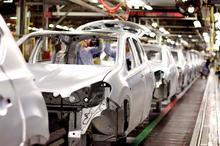 Car production increased last month, official figures showed today.
There were 137,028 cars made in the UK in October - a 6.5% rise on the October 2011 figure, the Society of Motor Manufacturers and Traders (SMMT) said.
Commercial vehicle (CV) production also rose last month - going up 5% to 11,899 - while engine production increased 1.2% to 239,011.
The latest figures took the year-so-far car production total to more than 1.22 million - a 9.7% rise on the January-October 2011 figure.
CV production has reached 94,214 this year, which is 6.1% down on the total for the first 10 months of last year, while engine production, at 2.12 million, is 0.2% down on the January-October 2011 total.
SMMT chief executive Paul Everitt said: "The UK automotive industry got back on track in October.
"Sustained, high-value investment in research and development, facilities and new products is paving the way to a prosperous future for UK automotive, but there remain significant challenges as European market demand remains weak.
"It is essential the Government continues to focus on boosting economic growth and enhancing UK competitiveness."