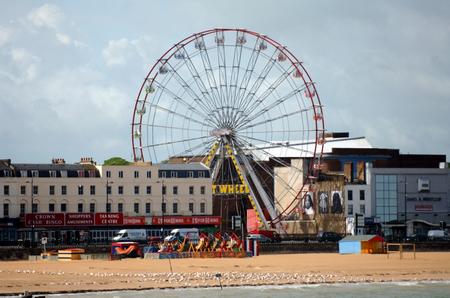 by Martin Jeffries
Repairs to an iconic funfair ride in Margate that was severely damaged by fire have been given a major cash boost.
The world's largest club of amusement park enthusiasts, the American Coaster Enthusiasts (ACE), has donated $5,000 towards the restoration of Dreamland's Scenic Railway.
The Grade II-listed ride, which is the country's oldest rollercoaster, was partly destroyed by fire in 2008.
It is set to be repaired in time for the planned opening of the world's first heritage amusement park on Margate seafront in 2012.
Nick Laister, chairman of the Dreamland Trust, said: "I'd like to thank all of the members of ACE for this very generous donation.
"This demonstrates the level of international interest in the future of the Scenic Railway, which is a remarkable and fragile survivor.
"We'll ensure this donation is used entirely for the restoration of the Scenic Railway and I look forward to welcoming members of ACE to Dreamland for the reopening."
ACE was founded in 1978 as a not-for-profit organisation of volunteers who promote the conservation, appreciation, knowledge and enjoyment of classic and contemporary rollercoasters.
Mark Cole, president of the group, said: "The Scenic Railway is one of very few coasters of this type in the world.
"Preservation is a major part of our work and we look forward to returning to ride Scenic Railway in the not too distant future."
Work on the heritage amusement park, which will cost around £12.5 million, is expected to start later this year.
As well as the Scenic Railway, the tourist attraction will feature a number of vintage rides that have been rescued from other amusement parks around the UK.
They include the Caterpillar, Water Chute, Whip, Wild Mouse and River Caves, some of which are the last surviving examples of their type.