Vandals believed to be armed with a catapult are being blamed for causing damage to at least 30 vehicles in one night.
Cars and vans parked in several roads in Istead Rise, near Gravesend, were targeted in what residents claimed was a drive-by catapult shooting on Sunday.
They say the culprits were driving a white van and several said they had heard a man walking his dog was also hit in the legs.
Police are now investigating the vandalism, which comes just two weeks after a series of similar catapult shootings in Greenhithe and South Darenth.
Officers are not yet linking the incidents, but are appealing for information.
Several of the vehicles were parked along Downs Road. Others damaged were in nearby Arcadia Road and Lewis Road.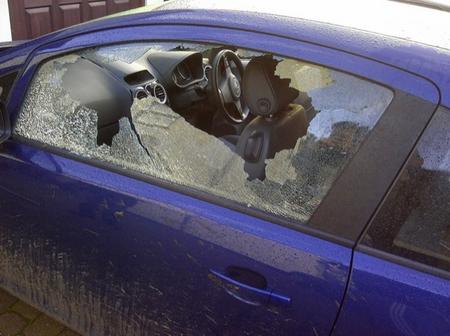 College student Troy Wareing and his brother, Tyrone, 22, both had windows smashed on their vehicles that were parked on Downs Road.
Troy, 18, believes a small stone he found in his Vauxhall Corsa had been fired from a catapult, smashing the nearside window as well as the electrical opening mechanism.
He has now handed the stone over to the police.
Tyrone's van was hit first. Troy discovered his car had been damaged the following morning.
Troy said: "My passenger side window had been smashed and I found a stone inside by the driver's door. I noticed it was the right size for a catapult.
"I then found out about 30 cars around my area had also had their windows smashed.
"I just don't see what people get out of it. What sort of enjoyment do they get out of smashing windows?"
"i don't see what people get out of it. what sort of enjoyment do they get out of smashing windows?" – catapult victim troy wareing
Barbara Baldock, 59, was at home in Arcadia Road when she discovered a Toyota Yaris belonging to a friend of her daughter had also been damaged.
She said: "She had parked her car just on the edge of our driveway. My son came in and told us that her driver's window had been smashed.
"A minute later a lady knocked at the door to say the same thing. She had just come from her brother-in-law's house and his van had been damaged.
"A man across the road from us had his son's girlfriend's car smashed as well.
"I also heard that a man walking his dog thought someone had hit him with a hard egg but then realised he had been shot with a catapult.
"We have been informed that about 30 cars were targeted on Sunday evening but all were parked on the road rather than people's drives."
Mrs Baldock said a decorator living in Downs Road had damage caused to two vans. She branded those responsible "mindless".
"I would just like to know what these people get out of it, what have they achieved?"
Kent Police confirmed they had received 18 reports of damage to vehicles by small objects, such as stones, in Istead Rise.
They have renewed their original appeal for information which followed reports of 15 incidents of damage being caused by ball bearings and smooth stones fired from catapults in Dartford, Sevenoaks and Gravesend, between September 30 and October 15.
Anyone with information is asked to contact DS Mat Scott at Kent Police by calling 101.