A horse rescue centre is warning that unless it receives more money it will be forced to close by the end of the month and put down animals in its care.
Canterbury Horse Rescue, now based in Lenham, after moving from Badlesmere, Faversham, looks after 21 horses, but the recession has seen its donations fall by half in the past year.
Yard manager Stella King said: "We literally have run out of funds.
"People just don't have the money to donate to charity at the moment, and we have been very badly hit.
"Without immediate help we will be forced to close."
The charity has stopped taking in new admissions, and Stella is concerned about the future of the animals currently in their care.
She said: "Some of the horses cannot be rehomed due to medical and behavioral issues, and I am afraid that it may result in them having to be euthanised.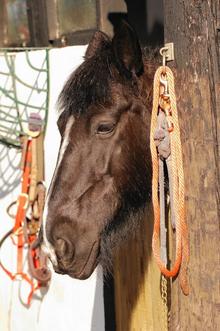 "The decision will not be made by me, it is down to the trustees, but we are one of the few horse rescue charities left in the South East so there is just nowhere else for them to go."
The charity has been running for the past 10 years, and rescues and rehabilitates abandoned and abused horses as well as educating the public about equine welfare.
It was previously based in Badlesmere but moved to the 40-acre Lenham farm in October last year as the rental was cheaper.
Stella, 50, who has been with the charity since it launched, said: "It is an old farm, and the family who own it kindly offered it to us as they want to see it revived.
"But without any funding it is a nightmare. I am the only paid worker.
"We have between 10 and 15 regular volunteers who help out, but there is so much to be done, not only looking after the horses, but around the land, such as fixing fences."
The charity typically spends £100 on feed each week, along with rent, Stella's wages, transport costs and vet bills.
It receives no government funding and is supported entirely by donations.
Stella added: "Animals are at risk of being put down, and it will be a real tragedy if that happens."
In addition to money, donations of feed, hay, unwanted rugs, tack and stable equipment would be gratefully received.
For more information visit the charity's website.