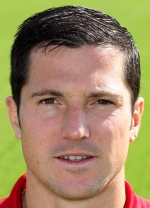 Sitting on the sidelines is never enjoyable.
No injury is great, but those you receive in training are even worse, particularly if they are complete accidents.
Unfortunately, I fractured my ankle in an innocuous incident in training just before last month's match against Ipswich.
I went to volley the ball and caught the foot, or maybe the shin, of Dorian Dervite, another of our French players, coincidentally. It wasn't a bad challenge but I knew straight away that it was me finished for at least a few days.
I had an X-ray straight away afterwards which didn't show anything nasty. Nothing seemed to be broken, so I left on crutches and hoped that I would feel better soon.
Sadly, by Monday morning I was still unable to walk and that meant a return to hospital for another scan.
This time, it was the MRI machine and unluckily for me it picked up a fracture in my foot that means that I'm going to be ruled out for up to three months.
Since I've been at Charlton, I know that I've gained a bit of a reputation for playing on despite all of the injuries I receive during games.
I remember one match, against Oldham Athletic, when I used up almost all of the club's supply of bandages because I had a head wound that just wouldn't stop bleeding.
I've often played through the pain barrier before but if you can't walk, you can't play.
We got a good win against Ipswich Town and played well against Blackburn Rovers before a disappointing defeat to Watford on Tuesday night, when we did everything but score.
I'm enjoying being back in the Championship, but although, unlike some of the other lads, I've played in this league before, it's completely different this time round.
This time, I'm really involved with the team and before getting injured, I played all the time for Charlton.
We have had some up and down moments so far this season because it's a tough league.
Let's hope for another up moment against Blackpool on Saturday.