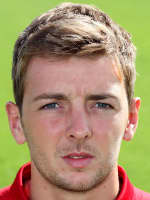 You can never predict what will happen in football.
On Saturday, we were at home in front of a packed Valley facing a team most supporters probably expected us to beat. We lost.
On Tuesday night, we travelled to the intimidating arena of Elland Road to take on much-fancied Leeds. And we deserved to win.
Also on Tuesday night, I was supposed to play. I didn't.
Dealing with the final one of those points first, although selected in the starting line-up, I felt my hamstring tighten during the warm-up and when I reported it to the medical and coaching staff, we took the decision that it was better to pull out as a precaution than play and risk getting injured.
It was the last thing the team needed in terms of our preparation but Bradley Pritchard stepped in and performed well.
In fact, the entire team played well and only the woodwork and some inspired saves by Paddy Kenny prevented us from winning.
It would have been a welcome win after our defeat against Barnsley at the weekend. We didn't play well and the performance came at the wrong time for us as it was in front of more than 26,000 fans as part of the Football for a Fiver promotion.
Hopefully, the fans enjoyed their day, if not the result and will be back at The Valley soon.
There was a chance that I wouldn't be here. At the end of the August transfer window, a Premier League club expressed interest in me and began negotiating with the club.
Indeed, the manager made the decision to leave me behind for the match against Nottingham Forest because I might have needed to have been withdrawn at the last minute. That was his decision and I was fine with that.
I didn't know where I would be on the Friday but as soon as the window shut, I knew I could play my football and settled down and got straight back to what I was doing previously – my best for Charlton.
I'm a professional footballer and I just wanted to be professional about the situation. I think I was. The manager helped me. He kept me in the loop and protected me a little bit.
I was happy with how it was handled and then I was ready to get straight back to work.