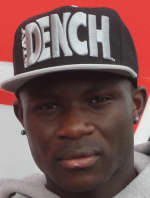 After joining Charlton on loan from Arsenal at the start of the week, it's been a busy few days for me.
I was happy to come to the club because it's not far from Arsenal and Cedric Evina told me a lot of good things about Charlton.
We played together for many years for Arsenal's academy and he really wanted me to come here.
Cedric is a good friend of mine, so I know he wouldn't tell me if he didn't believe in it. That meant that I didn't have much to think about.
All of the lads have been nice to me and have made me welcome, so hopefully I can help them as a team by doing well on the pitch.
It's just a shame that Cedric is injured at the moment because it would have been nice to be training with him again.
He is a few weeks away from joining in again, though, and hopefully when he comes back we will train together just like old times.
Training has been good so far. There have been loads of games and the lads are enjoying themselves, which is nice to see. Everyone is competing to play on the weekend.
People tell me that the last Arsenal midfielder to come here on loan was Alex Song, who did well for Charlton and hopefully I can follow in his footsteps.
He came here when Charlton were in the Premier League, and as well as helping the club, he improved his own game. After he left, he went on to play in the Arsenal first team, so hopefully I can do the same thing.
Just before I signed for Charlton I came to the stadium to meet the manager and was impressed with what he had to say.
In training, he has been chilled and seems like he wants to have fun with the players. Hopefully, we are going to have a good relationship while I am here.
I am a player who likes to give their all on the pitch. I like to tackle, run with the ball, get forward, defend – that is just me, really.
I like going to new clubs because it's a fresh start and you can show the manager and your team-mates what you can do.
I have been trying to train to the maximum this week and hopefully I'll be ready to give my all to the team.