Vulnerable children in Kent at risk of abuse and neglect are being better cared for after a £20m investment in services, inspectors have revealed.
But more improvements are needed to ensure their long-term welfare, a report has said.
Kent County Council's services for children at risk have been rated as adequate by Ofsted, two years after a damning report said safeguarding services were failing and exposing children to risk of significant harm.
The council has spent millions on efforts to address the serious shortcomings identified by inspectors in 2010.
In their latest report, which followed an unannounced visit in December, inspectors say they found no cases of children who were exposed to immediate risk.
They concluded children were "protected by effective initial screening and prompt action by the council and police services" and KCC now provided a "significantly improved response" when dealing with children referred to them.
The report said: "Children requiring protection receive a more assured initial response than previously, with risk identified in a timely and effective way."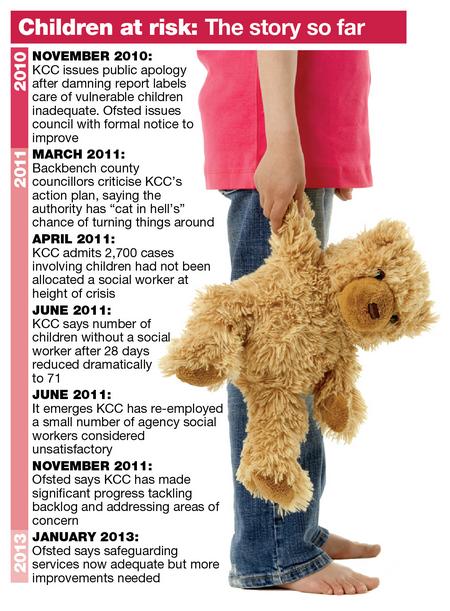 But Ofsted was critical of the high number of children in need coming back into the care system, with one in four needing repeat child protection plans.
It said "too often, interventions lack focus and there is drift and delay" and planning for children in need was weak, with "superficial assessments and a lack of specific and measurable objectives and contingency plans."
In some cases, visits by social workers were not made for several months and in a small number of cases it reviewed, Ofsted said "children continued to live in potentially harmful environments for too long."
These weaknesses were reflected in an increase to 26% from 15% in the number of children needing repeat protection plans in a year, considerably higher than many similar areas.
Despite this, Ofsted said morale among staff was good and social workers' caseloads were at a manageable level.
Responding to the report, KCC said it was not complacent and acknowledged more needed to be done.
Cllr Jenny Whittle (Con), cabinet member for specialist children's services, said: "This report recognises what we have done to raise standards but we are only part of the way along this road.
"We are committed to building on successes and addressing weaknesses that remain to create the services the children and families of Kent deserve."
She added: "Now we have to focus on cases of children in need to ensure they get the services they need."
Council leader Paul Carter, who had said he would resign if improvements were not made, said: "Despite our significant achievements in raising standards, we are not complacent and recognise more work needs to be done."