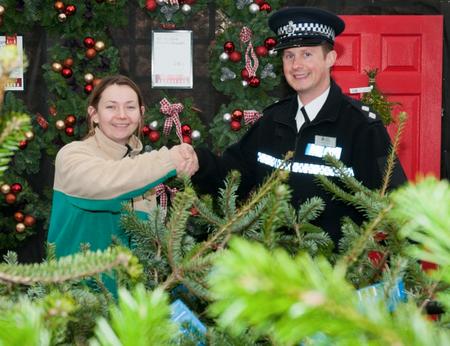 Police followed a trail of pine needles to nab Grinch-style thieves who stole more than 100 Christmas trees.
Officers swooped on a van to get to the root of the crime, after the hapless thieves were caught on camera at Notcutt Garden Centre in Tonbridge Road, Pembury.
They had smashed two CCTV cameras, but were unaware covert cameras were still monitoring them during the raid on November 22.
In a scene straight out of the Special Branch files, police cars cut off all exits around the site after security staff reported the incident.
Officers then moved in - catching one thief attempting to escape, and finding two more hiding in bushes.
"these scrooges have shown a complete lack of christmas spirit… " – insp justin watts
Officers then followed a trail of pine needles to the thieves' van, where 138 Christmas trees of various sizes, as well as 48 boxes of Christmas lights and two wheelbarrows were found stacked nearby, ready to be loaded. The haul was worth almost £7,000.
On Thursday, Ashley James Austin, 21, of Grove Road, Maidstone, 35-year-old Lee Danny Hodgson of Tonbridge Road, Maidstone and his brother 31-year-old Grant Hodgson of Court Road, Burham, Rochester all pleaded guilty to theft at Sevenoaks Magistrates.
Ashley Austin and Lee Hodgson were sentenced to a 12-month community order with an unpaid work commitment. Grant Hodgson was sent to Maidstone Crown Court for sentence.
Inspector Justin Watts of Kent Police comments: "Christmas tree theft is an all-too common occurrence at this time of year, which is why we work with garden centres and private sellers alike to offer crime prevention advice and ensure they have sufficient security to tackle this issue.
"This is a prime example of where these security measures have worked to helped prevent anything being stolen and the offenders being caught in the act.
"These scrooges have shown a complete lack of Christmas spirit, which is why it's only right that they will spend their festive season thinking about the consequences of their actions."