A village church has become the latest target for callous metal thieves.
Priceless, rare brass items including candlesticks and altar crosses were stolen from St Mary's Church in Bishopsbourne in broad daylight as thieves climbed over the organ into the vestry to grab their loot.
The wicked act has left parishioners and volunteers stunned, including church warden Gill Applin, who made the sad discovery last Thursday.
She said: "It's absolutely sickening. I've been part of the church almost my whole life since I was a choir girl, aged eight.
"There's been so much hard work done by so many volunteers, so many happy moments with weddings and christenings and this is such a real shame."
Gill, 69, from Petham, admits the theft was not immediately apparent when she first went to lock up the church at 4.30pm on December 29.
She added: "Some things had only slightly been moved around, rather than left strewn across the floor. The first thing I noticed was the small altar had been slightly moved and there was a candlestick that had fallen to the floor.
"As I went around to look in the vestry, it soon became clear what had gone missing. But, everything had still been left behind tidily. Whoever it was had been quite careful not to disrupt more than they needed."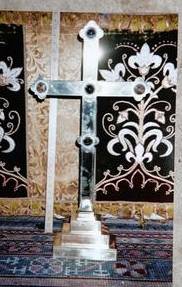 Among the precious items stolen were a brass candelabra, two large brass candlesticks covered in semi-precious stones, a 2ft high brass altar cross (pictured right) and a brass church plate.
They were taken sometime between 9.30am on Tuesday, December 27 and 4.30pm on Thursday, December 29.
Police have conducted house-to-house inquiries in the village and at local scrap metal dealers.
Det Con Jonathan Heard said: "To steal from a church, especially at this time of year, is a pretty heartless thing to do.
"This will have been very upsetting for parishioners and we are keen to catch the offenders. When thieves target a church, they are targeting not just a historic building but a whole community."
Anyone with information is asked to phone Kent Police on 101 or Kent Crimestoppers anonymously on 0800 555111 quoting crime number ZY/4374/11.
Read more reaction in Thursday's Kentish Gazette.