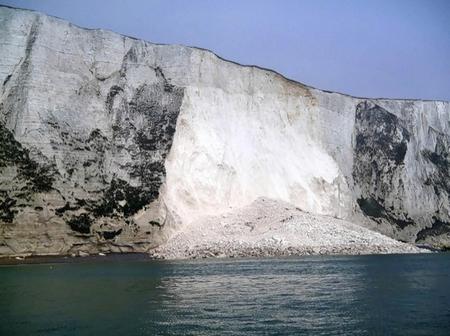 Hundreds of people are risking death or serious injury by trying to get a bird's eye view of a huge rock fall at Kent's world famous White Cliffs.
Thousands of tonnes of chalk have crashed onto a beach near Dover, leaving an overhang at the top of the cliff that could fall to the ground at any time.
Despite the dangers, some people have been seen kneeling at the edge of the cliff and leaning over to take photographs.
Dover coastguard Barry Woodward said: "People are actually on top of the overhang and don't realise there's nothing underneath. We're extremely concerned that someone will go over the top.
"By all means enjoy your walk along the White Cliffs but stick to the footpaths which are clearly marked and set back from the cliff face. Don't go looking over the cliffs; it's just so dangerous."
No one was injured in the rock fall at Crab Bay, which is thought to have been caused by rain seeping into cracks in the cliffs and freezing during the winter.
Mr Woodward also urged people not to walk too close to the base of the cliffs, which can give way without warning.