A fish bar owner has been ordered to remove his controversial Oh My Cod banners.
Del Athwal, who runs Del's Fish Bar in St Michaels, has been served with an enforcement notice by Ashford council.
He has to remove the signs, which advertise his fish and chips for £2.99, by Monday - or face a £2,500 fine plus £2,500 a day if he is convicted under the Town and Country Planning Act 1990.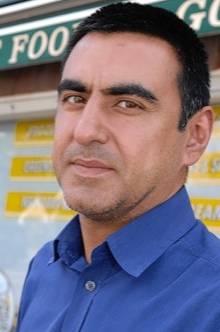 We reported last week how Mr Athwal (pictured left) was under pressure to remove the signs after church-goer Christine Inskip complained they were "tasteless".
After hearing the banners were to be removed Mrs Inskip, who lives near the fish bar, said: "It has all got a bit ridiculous – he has been a very silly man.
"There is a member of the council planning committee and an officer living near me and they must have seen it.
"I just thought it was distasteful, especially over Easter. I am not worried about them coming down. I have said what I said and that is it."
Mrs Inskip complained about the signs to Tenterden Town Council.
The banners are on a hoarding next to Mr Athwal's premises.
He has been served with an enforcement notice for putting them up without planning consent.
Last week, Mr Athwal said no one had complained to him.
"I don't agree it is tasteless," he said. There are lots of fish and chip shops called that – I am not going to take it down."
What do you think? Join the debate below.