Herne Bay: a traditional kiss-me-quick seaside town that could be the Riviera of Kent.
Whitstable: another coastal location best known for independent shops and attracting Londoners.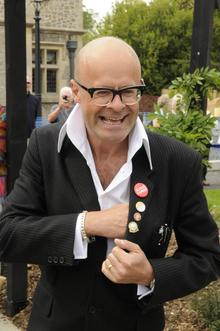 But which is better? There's only one way to find out: FIGHT.
Comedian Harry Hill's catchphrase came into sharp focus this week after he gave a slight to Herne Bay in a piece for a national newspaper.
Asked to write his life tips he regaled people with: "I've got into going on long walks... the wife and kids were away recently so I thought I'd walk from Whitstable to Herne Bay. It was lovely.
"But the only problem with walking to Herne Bay is that at the end of it, you're in Herne Bay."
Harry lives in Whitstable with his wife and three daughters. He grew up in the county before attending medical school in London.
He is regularly seen in Herne Bay as his grandma lives there and he has done much to support the Age UK charity.
His comments come as he launches his first nationwide live tour in six years, which kicked off at the Marlowe Theatre on Thursday.
Gerald McCarthy, who formed the Bay Promo Team to boost the town, said: "It is a shame that Harry's chosen to take a swipe."
---
---
He described this year as "the most event-filled for years", with the town set for a sci-fi festival, Titanic ball and Kings Hall Centenary celebrations.
He believes the opening of three restaurants, including The Oyster and Chop House, had lent a bit of class to the area.
"the only problem with walking to herne bay is that at the end of it... you're in herne bay" – comic harry hill
"So we invite Harry to take a closer look; his collars must have been obstructing his view in the breeze," Mr McCarthy added.
"The message is keep calm and ignore Harry – today's newspaper is tomorrow's loo roll."
Chris West, coastal towns manager, added: "I'm sure this is just tongue-in-cheek and a reflection of Harry's type of humour.
"We have been very pleased with the support he has given to Age UK and the town. He has been here a few times and has enjoyed attractions such as the amusements."
He said improvements to the town this year will include a mini golf course on the pier and a new coastal path.
"There is a perception that Herne Bay is the poor relation to Canterbury and Whitstable, but that is not the case," he added.
What do you think? Join the debate below.