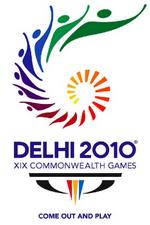 by Alex Hoad
Maidstone's Martin Brockman made the best possible start to his quest for a Commonwealth Games decathlon medal with personal best performances in all five events on day one in Delhi to leave him in silver medal position overnight.
The 23-year-old Medway & Maidstone AC member stormed to second place in his 100m heat in the early hours of Thursday.
After a photo finish he was awarded second in 11.36s to record 782 points and ninth place overall.
Brockman produced his second PB in the second event, leaping 7.29m in the long-jump - the third-longest jump of the competition - for 883 points.
In the shot-put Brockman produced another lifetime best with a throw of 13.50m, seventh best in the field, for 698 points to leave him 220 points behind leader Canada's Jamie Adjetey-Nelson after the opening session.
Brockman then superbly won the high jump with another personal best of 2.14m to add 934 points to his tally to take him to 3297, just 108 points behind the Canadian leader and in silver medal position.
He then secured another 817 points with s storming run in the 400m to secure second spot at the half-way stage with 4114 points, 124 off gold.
England Lawn Bowls duo Sandy Hazell and Sian Gordon will look to ensure a place in Sunday's semi-finals when England take on Brunei in their final Team Triples game on Friday.
The Milton Regis members, from Maidstone and Whitstable respectively, and teammate Sian Gordon recorded a straight sets victory over Papua New Guinea on Thursday morning followed by a fine win over Group A leaders South Africa 12-5, 11-3, to boost their medal hopes.
Victory over Brunei would all-but cement their passage to the final four on Sunday.
England hockey star Ashley Jackson from West Malling was frustrated as his side could not overcome a stubborn Canadian defence on Thursday lunchtime, having to settle for a 1-1 draw following their opening win on Wednesday, 4-0 against Trinidad & Tobago.
Petts Wood badminton star Carl Baxter did not feature in England's quarter-final win over Scotland or the the semi-final against India on Thursday afternoon.
Victory over India meant they would play for silver or gold but defeat meant facing the losers of Malaysia v Singapore in tomorrow's bronze medal match.
Chatham-born Montell Douglas failed to reach the final of the women's 100m and must now concentrate on the 4x100m relay.
The British record holder finished fifth in her semi-final on Thursday afternoon in a time of 11.62s, well outside her personal best of 11.05s.
Dartford teacher Scott Rider suffered disappointment in the Shot Put final on Thursday afternoon, finishing eighth with a best throw of 17.73m, more than 3m behind the new Games record set by Candian Dylan Armstrong.
Erith-based former Dartford schoolboy weightlifter Jack Oliver took part in the 77kg class final.