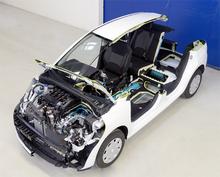 Citroen is set to preview a fascinating new drivetrain that uses compressed air as part of a fully enclosed hybrid system.
Working in much the same way as the well-known hybrid setups from Toyota/Lexus, the Hybrid Air system combines a small petrol engine with compressed air and hydraulic power to achieve fuel economy reportedly in the region of 97mpg.
It has no need for batteries and weight has been minimised as a result. The prototype, fitted to a C3 with a 1.2-litre VTi 82 three-cylinder engine, will be displayed at the Geneva Motor Show alongside information detailing its low nitrous oxide and CO2 emissions; the latter of which is just 69g/km.
Citroen cites 80 patents having been registered in the development of the system, which at low engine loads shuts down the combustion cycle and instead transfers energy from compressed air to the wheels via a hydraulic motor and gearbox. This `Air Mode' can be active up to 43mph, and Citroen estimates that a typical driver will spend 60-80% of their urban driving time in this mode.
The compressed air tank can be `recharged' by recovering energy from braking and decelerating, with on-board systems compressing air and re-filling the tank.
The system can also be used in petrol-only mode when speeds rise above 43mph or when the compressed air tank is empty. Finally there is a combined mode, where the two propulsion streams give faster acceleration than either could manage alone.
Pricing for the new system can be kept down, since battery production costs are avoided altogether, and Citroen boasts that the system, which operates through an epicyclic transmission, always operates at the same efficiency levels regardless of driving conditions or weather - although this doesn't mean it will always achieve the same miles per gallon.
Special new low rolling resistance tyres from Michelin help to lower fuel consumption further.