by Julia Roberts
A drug addict jailed for life for the brutal murder of a university graduate has appeared in court charged with escape.
Deke Partridge (pictured left) was serving life with a minimum term of 14 years before being considered for parole, is alleged to have fled while being escorted to a dentist in February.
The 30-year-old was in the custody of staff from the Trevor Gibbens unit at Maidstone Hospital at the time.
Partridge, formerly of Mannette House, Maidstone Road, Chatham, was charged with escape from lawful custody and assault by beating.
He was committed by magistrates to Maidstone Crown Court for a sentencing hearing listed to take place yesterday.
But it had to be adjourned after the judge was told Partridge, who appeared via a video link with the Trevor Gibbens unit, had no legal representation.
Neither had there been any indication as to his plea, or any evidence as to whether or not he was actually fit to plead to the charges.
Judge Jeremy Carey also questioned the effect any sentence he imposed would have.
"I cannot impose a sentence consecutive to a life sentence so one wonders what this is about other than to mark the fact, if it be so, that he has committed a criminal offence," he remarked.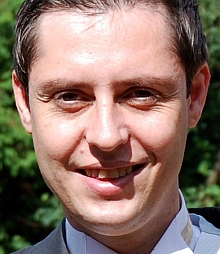 Prosecutor Danny Robinson told the court that it was in the public interest to prosecute as it would be a matter taken into consideration by the parole board.
However, Judge Carey, who himself sits on the parole board, suggested that an internal adjudication hearing was a more suitable procedure to adopt.
Adjourning the case until December 17, he added: "If we heard every case of some kind of breach of the prison setting, we would never have time to do anything other than those."
Partridge was convicted in January 2010 of the murder of 34-year-old Tim Hutcheon (pictured left).
The former pupil of King's School, Rochester, suffered 10 stab wounds at his bungalow in Dale Street, Chatham, in January 2009.
His body was not discovered for nine days.
Partridge was a friend of Mr Hutcheon's. He denied murder, claiming he was out visiting people at the time.