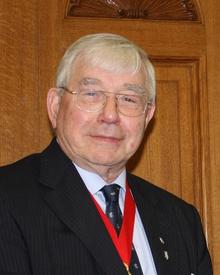 by political editor Paul Francis
Chauffeur-driven cars used by senior county councillors and top officers cost the taxpayer nearly £65,000 last year.
A report by Kent County Council reveals a fleet of four cars based at County Hall was used predominantly by the chairman and vice-chairman of the council, along with KCC Conservative leader Paul Carter and his deputy Cllr Alex King.
A quarter of all councillors used the cars at some point over the year.
But while the costs have been disclosed formally for the first time, KCC says it does not know how many miles the cars have travelled taking councillors and officers about on official business.
Neither has it released details of individual journeys and what they were for.
More than half of the bill of just under £65,000 was for paying chauffeurs for their work.
That worked out at nearly £34,000 based on a rate of £10 per hour. A further £833 was to meet the London congestion charge while fuel cost £9,222.
The top user of the cars during 2010-11 was by KCC chairman Cllr Bill Hayton (above left), who lives in Thanet. He accounted for 1,123 hours of use.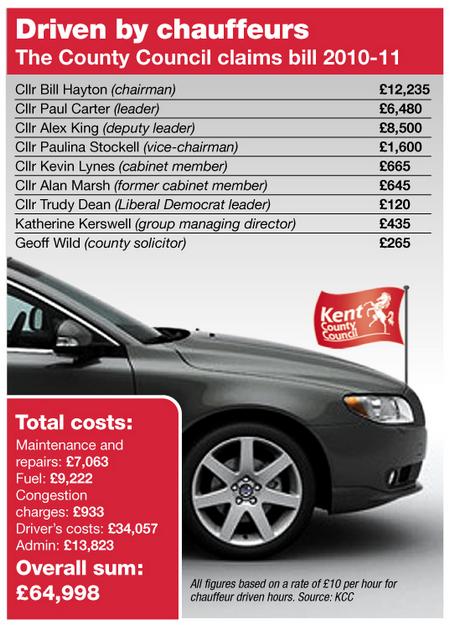 He was followed by KCC deputy leader Cllr Alex King, whose costs linked to using chauffeur driven cars to and from appointments amounted to £8,500.
KCC leader Cllr Paul Carter used the cars for close to 650 hours, a cost of £6,480. Several other senior county councillors also made use of the cars.
Cllr Kevin Lynes, cabinet member for regeneration and enterprise, clocked up 66 hours at a cost of £665; Cllr Alan Marsh, former cabinet member for public health, used the cars for 64 hours at a cost of £645.
Managing director Katherine Kerswell also made use of the cars, with costs of £435 for the 43 hours clocked up by chauffeurs.
Geoff Wild, the county council solicitor, was the second highest user among senior officers, with 26 hours use.
Cllr King said: "The cars are a valuable aid. You can actually work in a car, either on papers or making phone calls.
"This is a big county and lots of the things we do could not easily be done by public transport. It makes effective use of our time.
"The reality is that this is a member-led organisation and members work hard.
"I had four evening appointments last week and if we were employees of the council, we would probably not be allowed to work the hours that we do."
KCC says the decisions about using cars is based "on a commonsense assessment of the relative importance of each journey."
Rules also say that members are required to use their own cars or public transport where possible.
Asked if he thought KCC should publish details of all journeys as well as the general costs, Cllr King said: "That would be a lot of work and I am not sure how constructive that would be.
"We are very careful to try and make the best use we can of the cars."
Click here to read our political editor Paul's take on KCC's car bill.