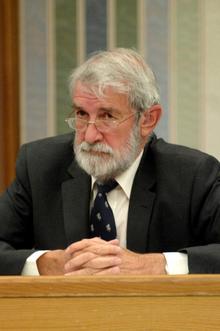 by political editor Paul Francis
A county councillor who once spent three years driving a double decker bus around the world as part of a bet is to be the new chairman of Kent County Council.
Richard King, who was elected in 1997 and represents Ashford Rural West, took over the reins from Cllr Paulina Stockell and will be the ceremonial representative of the council for the next 12 months and will preside over full council meetings.
Before a career as a broadcasting executive, Richard took three years out when he was in his twenties to drive a double decker bus around the world.
The trip came about after he and a group of friends took on a challenge from their local pub landlord, who said it could not be done.
"The landlord said it could not be done so we set out to prove it was possible. We all jacked in our jobs, bought a bus from the Warrington Corporation for £100 and spent three years driving it round the world," he said.
In a 20-year career with the Independent Broadcasting Authority, he was responsible for the south east from 1981 to 1993.
He was a director of both the Kent and Maidstone Chambers of Commerce, and chaired the Maidstone Enterprise Agency and the Maidstone Business Point. He has had other experiences in business management, haulage and public transport industry, travel and estate agency.
Mr King said: "There will be two themes to my chairmanship. One is trying to encourage more young people into proper employment or training after they leave school. There are opportunities available and I intend to champion these.
"The other is to promote voluntary work in the county. We need our volunteers – they do a very important job, supplementing all the work that other organisations do, and we need more of them."
Richard has nominated two charities that work to protect Kent's environment – CPRE (Campaign for the Protection of Rural England) Kent and the Kent Wildlife Trust. He will be raising funds for both organisations.
Meanwhile, the long-serving county councillr Eric Hotson, who represents Maidstone Rural South, was elected vice chairman of the council.