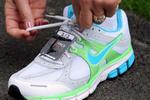 Selection for the English Schools Cross-Country Championships at Catton Hall, Derbyshire, in March will be on the minds of competitors in the Kent Schools Championships at Danson Park, Bexleyheath, on Saturday.
The first four athletes in each age group will gain automatic selection and a further four will be added at a later date subject to the selectors' discretion.
Racing gets under way on the fast, parkland course at 11am with the senior boys' championships over 6,930m and concludes with the combined senior and intermediate girls' 4,280m event at 1.30pm.
Last year the senior winners were Charlie Joslin-Allen (Tunbridge Wells District) and Rebecca Weston (Canterbury and St Augustine). Intermediate winners were Sean Molloy (Swale) and Bobby Clay (South East Kent), while the junior champions were Stuart Brown (Tonbridge and Sevenoaks) and Sabrina Sinha (Bromley).