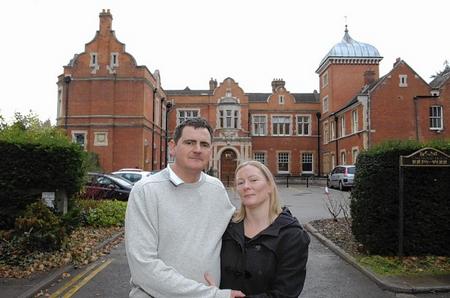 A couple spent their first day as newlyweds in distress after discovering hundreds of pounds worth of wedding gifts had been stolen.
Mark and Amanda Haffenden-Boyce, from Barming, said "I do" at Oakwood House recently and had planned to have a couple of days off work to enjoy wedded bliss.
That idea was shattered the next morning when they realised gifts were missing.
The 43-year-old groom, of Maryland Drive, said: "We started to open presents when we noticed cards from certain people weren't there, including cards from one of my ushers and the chief bridesmaid.
"It was embarrassing as we had to ring the people and ask them if they had given us a gift. We think about £270 was stolen.
"it's disgusting that this happened at our wedding venue" – mark haffenden-boyce
"It's disgusting that this happened at our wedding venue."
The parents-of-two, who invited 61 adults and 19 children to their big day, believe the envelopes were taken from a specially designed wedding post box sometime during the reception, held at the hotel in Oakwood Park.
Oakwood House is owned by Kent County Council. A KCC spokesman said: "We are aware of a suspected theft reported by a family at the weekend.
"The council takes this very seriously and will undertake a full investigation into the matter with our provider."
The incident has been reported to police and officers were due to speak to the victims, they said.
In 2011, it came under scrutiny when vouchers were taken from Emma and Melvin Knight, who tied the knot at the venue.
Two employees later admitted handling stolen money with one saying he used £35 in stolen vouchers to buy a dog gate.
Both received fines and were ordered to pay costs after trials at Maidstone Crown Court.