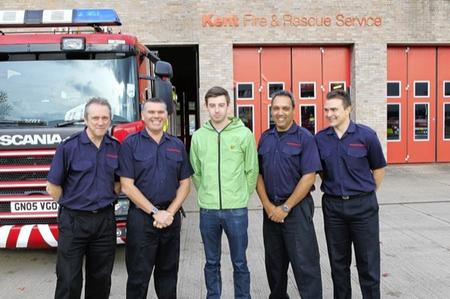 Lucky to be alive.
Four words summing up how Lewis Bryan feels after he survived a head-on collision.
The 24-year-old carpenter from Larkfield has thanked firefighters for saving his life.
He was reunited with them at Tonbridge Fire Station as part of National Road Safety Week, which has been running this week.
In a race against time to get him out the mangled car, firemen cut off its entire roof as an air ambulance waited at the scene in Whetsted Road, near Tonbridge.
"When we arrived we feared the worst – the car was a complete mess, so much it was almost unrecognisable," said fire watch manager Derek Patey.
"We were racing to save his life."
"i can't thank them enough. i've seen the photos of the crash and know how lucky i am to be alive" – lewis bryan
For most of the time Lewis was slipping in and out of consciousness and even today he can't remember much of what happened. He regained consciousness several hours later in hospital.
The wreckage looked so horrific it was initially thought Lewis had sustained life-threatening injuries. But he luckily suffered only some broken toes, cuts, bruises and whiplash in the crash.
Lewis said: "You don't normally get to meet the firefighters again to thank them. It was good being able to do so. If they hadn't got me out quick, things might have gone differently.
"They are definitely a highly valuable and worthwhile service and we should ensure their numbers are not reduced by government cuts.
"The service is already over-stretched.
"I can't thank them enough. I've seen the photos of the crash and know how lucky I am to be alive."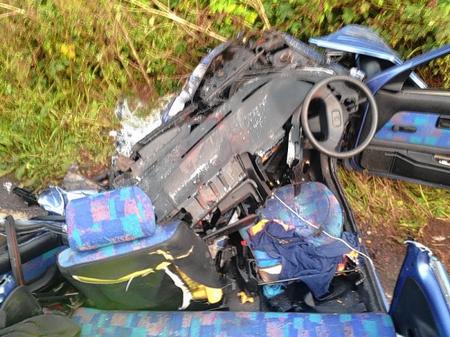 The crash happened on October 4 as Lewis was driving home from work. He was airlifted to Kings College hospital in London.
Insp Martin Stevens, of Kent Police, said: "About six people are killed on Kent's roads each month with many more seriously injured.
"We attend many serious collisions and see the effects this has on those involved, including loved ones left behind."