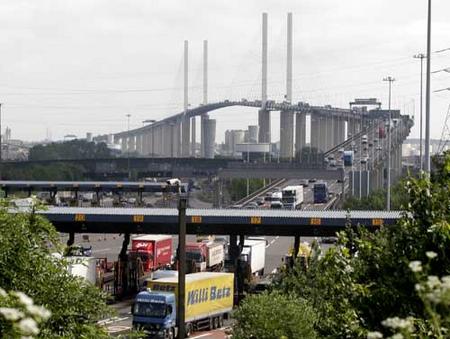 Charges at the Dartford Crossing rise on October 7
by Lauren Abbott
Toll fees at the Dartford Crossing will increase in a month's time, the Department for Transport has announced.
The new charges will be rolled out to hard-pressed motorists from 6am on Sunday, October 7.
They will see cash payments rise from £1.50 to £2 for cars, from £2 to £2.50 for two-axle goods vehicles and from £3.70 to £5 for heavy goods vehicles.
The crossing will remain free for motorcyclists and discounts will continue for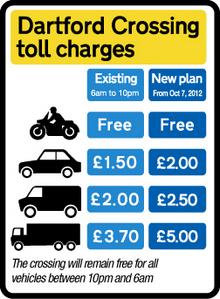 local residents and DART-Tag account holders.
It is free for everyone between 10pm and 6am.
Roads minister Mike Penning said: "We have listened carefully to what people have said, which is why charges that were meant to be implemented towards the end of last year have been delayed until now.
"The money raised will help us prioritise investment for much-needed improvements to increase capacity and reduce journey times."
This is the first of two planned changes to the charges, which were announced in May 2012.
Bryan Sweetland, Kent County Council cabinet member for highways, said: "I am concerned that toll charges at the Dartford Crossing are being increased without any improvement to the congestion problems. I am even more concerned that the introduction of free-flow tolling has been delayed yet again and is not now planned until the autumn of 2014, when the original date given was late 2012. I would urge the DfT to do all they can to improve on the autumn 2014 date.
"The government has made a firm commitment to look at the longer term capacity of the crossing and I welcome that. Their own statistics show that the crossing was at over capacity for more than two-thirds of the year.
"The benefits of an additional Thames crossing would not only help alleviate the severe congestion currently faced by road users, it would also act as a catalyst to unlock much needed investment opportunities in the Thames Gateway region and help boost business and employment prospects in Dartford, Swanley and Gravesend.
"However, to put this into perspective, as things stand at the moment, my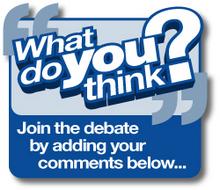 granddaughter who starts nursery school this week, is likely to be starting university before any additional crossing is built. Overall, local residents, businesses and road users will share my disappointment over this announcement and I call on the new transport secretary Patrick McLoughlin to address these very significant concerns as soon as possible.
"Congestion at the Dartford Crossing and its approaches costs the UK economy some £40million every year and is now a serious hindrance to encouraging economic growth in north Kent."