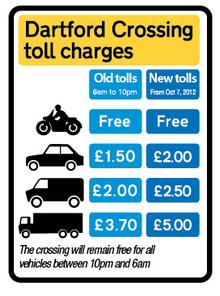 Drivers faced being caught out today after Dartford's tolls went up.
It was expected that some drivers would be left scrabbling for change after the increase in charges at the Dartford Crossing - despite warning notices in the lead-up to the price hike.
Car drivers now have to pay £2 - a 33% increase in the present charges - from 6am today.
Bigger vehicles such as lorries and coaches will have to pay £5 (an increase of £1.30 over the present charge).
But this is only the first of a two-stage increase - with the tolls going up to £2.50 for car drivers in October 2014.
Freight operators were quick to condemn the new fees saying it would hit shoppers.
"These charges will put up the costs for the lorry owners, who will pass them on to us, and we in turn will have to put the prices up for the general public," said a transport manager at one of the many freight-forwarding companies based next to the Crossing on the Crossways Business Park.
Cllr Jeremy Kite (Con), leader of Dartford council said: "It is not the cost - it is the principle. Nobody takes the Dartford Crossing as a leisure trip: everyone has to use it."
Gareth Johnson (Con), the Dartford MP, has fought in the House of Commons to get the tolls scrapped.
"They should be dropped," he said. "It is wrong what is happening."
The government has promised to replace the toll gates with automatic charging systems.
However, more than two years on, the old toll gates continue to be used.
What do you think? Join the debate below.