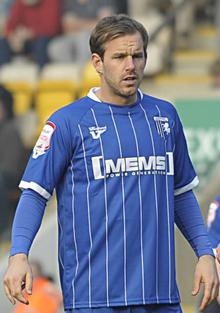 Gills boss Andy Hessenthaler says deadline day signing of Rowan Vine was a "no-brainer."
Vine (pictured) arrived on loan from Premier League QPR and Hessenthaler jumped at the chance to bring the forward on board, revealing that it is costing the club nothing in wages.
Hessenthaler also claimed the player offered to pay his own expenses.
"He is just hungry to get out and get some games," said Hessenthaler. "For me it was a no-brainer because there was no cost in it.
"He was even prepared to pay his own way to come to us.
"That just shows his dedication and that he is hungry to get some football again."
Vine came off the bench on Saturday and Hessenthaler knows the striker needs to get in shape.
"We are going to try and get him as fit as we can in the next eight games," Hessenthaler said.
"He will be an asset. He showed some glimpses (on Saturday) when he came on."