Construction sites across Kent are being warned to keep machinery secure after a stolen digger was used in a failed ramraid on a cash depot early today.
Would-be robbers used the JCB to smash their way into Loomis Cash Management in Swanley at around 5.15am.
They crashed through a wall but fled empty-handed – leaving the digger, which had been stolen from a nearby building site just hours earlier, at the scene.
Det Insp Kevin Downard, of the Kent and Essex Serious Crime Directorate, said: "We have very strong ties with the construction industry in Kent but there are a number of safeguards that can be put in place – making sure the machinery is locked and the keys removed, and immobilising the vehicle, for example.
"Construction sites should make sure they have locked, secure fencing in place. They can even block machinery in by using other equipment or building materials."
Police believe five or six people, all of whom had their faces covered, were involved in this morning's raid.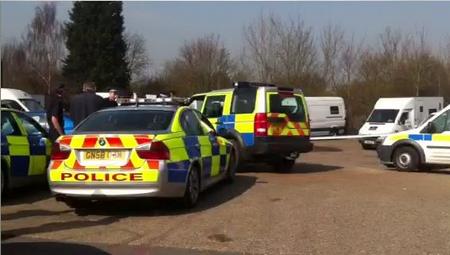 The gang tried to escape in a black Mitsubishi Warrior – but the pick-up truck, which had an 09 registration plate, was later found stuck in a field and recovered by police.
It is thought a significant amount of cash would have been inside the depot, which is close to the M25, at the time of the raid.
Barry Callaghan, managing director of neighbouring PMJ Foods, said: "I got in at about five in the morning. It was about quarter past five when the police arrived.
"About eight police cars arrived and it was quite dramatic. The JCB must have driven right through."
It is the second raid on the Loomis depot in five years.
In April 2007, a balaclava-clad gang reversed a stolen skip lorry into a cash transfer bay.
Anyone with information about the latest raid is asked to phone police on 101 or Kent Crimestoppers, anonymously, on 0800 555 111.