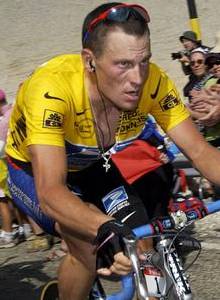 A 30ft effigy of shamed cyclist Lance Armstrong will be burnt at the famous Edenbridge bonfire this weekend... wearing a Jim'll Fix It medal.
The disgraced drugs cheat will be sent up in flames at the popular annual event on Saturday.
Organisers chose the bookies' favourite - with a cheeky nod to the public's outrage at the Jimmy Savile sex abuse scandal.
William Hill had opened a book on which famous figure would go up in smoke - with 15/8 odds on Lance Armstrong, 4/1 on chancellor George Osborne and 6/1 on footballer John Terry.
Last year, an effify of footballer Mario Balotelli was put on top of the bonfire after his house caught fire when a firework went off in his bathroom.
Edenbridge Bonfire Society, which organises the annual event, has set fire to a number of big names on previous Guy Fawkes Nights, with Wayne Rooney, Jonathan Ross and Katie Price among those to have gone up in smoke.
Previous effigies burnt on the Edenbridge bonfire include Jonathan Ross, Katie Price, Wayne Rooney and Cherie Blair.