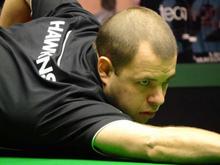 Ditton's Barry Hawkins was left to reflect on opportunities missed after he went out in the last 16 of the UK Snooker Championships in York on Wednesday.
Hawkins fell 6-2 to the world No.6 and defending Masters champion Neil Robertson in a scrappy affair low on quality.
The 33-year-old had only one break above 50 all night, and was a far cry from the confident figure who disposed of Liang Wenbo in the first round at the Barbican Centre.
With Robertson also struggling for consistency Hawkins (pictured) admitted that he had wasted a golden chance to progress deep into the tournament this
week.
"If you see a top player struggling you know you need to find your form and try and put them under pressure and I just was not able to do that," he said.
"It was just one of those things, I was mistiming things but I couldn't find any rhythm and it's quite annoying really.
"Sometimes you need to win matches like that, you have to battle through and that's what Neil did and I wasn't able to.
"I thought I played alright in my first match and I was expecting to go well in the second round but it was weird.
"Neil did not play that well either and it just got a bit scrappy in the end, I made too many mistakes and you can't win playing like that.
"I didn't settle all that well at the start of the match, I was getting chances and mistiming things and it's hard to find rhythm when you're playing like that.
"I don't like to make excuses but the conditions on the table were certainly tough, but that's not the reason why I lost.
"It's so frustrating because I felt like my form was there but to put in a performance like that is disappointing."
Hawkins, the current world no.15, has fallen in the round of 16 at the World Championships in both of the last two years but won the Australian Open at the start of this season.
And after failing to make the quarters this week Hawkins insisted he was getting fed up of failing to go deep into tournaments on a consistent basis.
"It's frustrating because after winning in Australia I wanted to keep going but there are plenty more tournaments coming up and I need to concentrate," he added.
"At this stage of my career I want to be going deep into the draw but it has not happened for me here."
British Eurosport is the Home of Snooker, showing 19 tournaments this season including the World Championship, UK Championship, the Masters and all ranking events, available on Sky (410/411) and Virgin Media (521/525) or online/on mobile via eurosportplayer.co.uk