A snarling dog chased a man onto a roof of a car before biting and gnawing his arm, a court heard.
Jake Austin had leapt onto the vehicle to escape the Staffordshire bull terrier after it chased him along Priestfied Road and into Saunders Street, Gillingham, in September last year.
But Maidstone Crown Court heard the animal, described as "baring its teeth and snarling", continued its pursuit by joining Mr Austin on the car.
In panic, he jumped from the vehicle and fell to the ground. The "noticeably muscular" dog followed and began to bite Mr Austin's right arm.
Prosecutor John Traversi said: "It began to gnaw away at his arm. Mr Austin felt intense pain and there was blood coming from his arm."
Mr Austin suffered multiple bites to his arm which required surgery and was told he may need cosmetic surgery in the future.
The owner of the dog, 26-year-old Lee Maynard, later claimed to police that the dog had chased Mr Austin because he "thought it was a game".
He initially denied being in charge of a dog dangerously out of control in a public place but then changed his plea to guilty last month.
It was accepted by the prosecution that he had not used the dog as a weapon and a more serious charge of wounding Mr Austin with intent to cause him grievous bodily harm, which he denied, was ordered to be left on file.
Maynard, of Mill Road, Gillingham, was sentenced to a community order with 200 hours of unpaid work and ordered to attend six sessions of a Home Office accredited education, training and employment programme.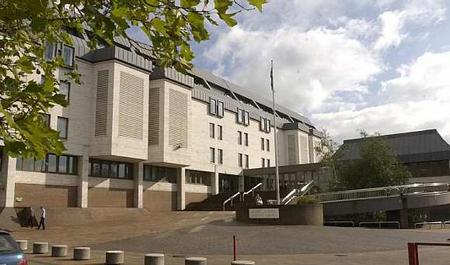 He must also pay £250 compensation to Mr Austin and £650 court costs.
A decision as to whether the dog is to be destroyed will be heard in January.
The court heard Mr Austin was walking along Priestfield Road when a woman sitting on her doorstep asked him: "What the f*** you looking at?"
Maynard was in the doorway of the next door property.
A brief row followed between the pair. Maynard was holding the dog by its collar at the time.
"It was pulling away from him, baring its teeth and snarling," explained the prosecutor.
"After a few seconds the defendant lost hold of the dog and the dog went for Mr Austin."
Mr Austin at first tried to beat off the bull terrier with a plastic stick he had found in the road. However, that fell apart and Mr Austin fled.
"it began to gnaw away at his arm. mr austin felt intense pain and there was blood coming from his arm" – prosecutor john traversi
The dog followed and bit Mr Austin on his left wrist when he fell over. Having got up, the animal tried to attack him again and Mr Austin then climbed onto the roof of a nearby car.
The court heard that the woman who initially confronted Mr Austin was apologising and Maynard was offering to shake his hand.
"But the dog managed to get on the car and was still behaving aggressively," continued Mr Traversi.
"Mr Austin panicked, jumped off the car and fell to the ground. The dog also jumped off the car and bit him to his right arm and began to gnaw away at his arm."
The court heard that police who went to the scene arrested Mr Austin. "He was unco-operative, highly-charged and not making much sense," said Mr Traversi, "which was understandable given what he had just been through."
Tom Dunn, defending, said the allegation that the dog had been used as a weapon was a "fiercely contentious issue" which Maynard had always "strenuously" denied.
He added that while there was no suggestion Mr Austin had provoked the attack, the fact he was arrested was "an insight into his own behaviour".
Passing sentence, Recorder Vincent Moran QC said Maynard had only "in part" accepted his responsibility for the offence.