by Dan Bloom
This is the dramatic moment a 22-stone pub manager was thrown into the air by a car when he tried to stop what he claims was a drug deal.
Tony Morgan is seen following the vehicle - before it reversed into him at speed, throwing him across the car park.
But the licensee of the Poachers Pocket, in Walderslade, Chatham, is defiant - declaring: "I'm not having drugs near my pub."
Police have released CCTV footage of the attack, which happened at lunchtime in the pub's staff car park.
Mr Morgan was having a cigarette when he saw a man get into the passenger seat of a dark grey Peugeot 307.
"I said 'that's a drug deal, I'm not having that,'" he claimed.
"I approached as the passenger got out and said 'don't come here to buy your drugs, do it somewhere else'."
According to police, it is alleged the driver then punched the dad-of-three, 44, through the partly-open window.
Mr Morgan held onto the glass until it broke off in his hands, he said, then the car reportedly reversed at high speed into the pub manager.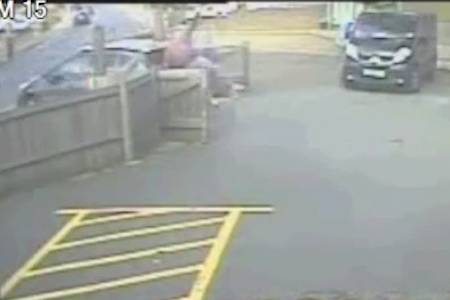 He said: "I heard the wheels spinning and the next thing I knew I was up in the air. It knocked me 15 or 20 feet across the car park."
"I suffered bruising and a few cracked ribs. The doctors said I was lucky - if I had been a smaller guy things would've been a lot worse."
The car, believed to be a hire vehicle from a London firm, was then driven off at high speed down Walderslade Road towards Chatham.
The driver is described as black, in his mid-20s, slim build with black short hair and a fine moustache. He was wearing a green checked shirt and spoke with a West Indian accent.
The publican, of Gorse Avenue, Walderslade, was treated for broken ribs at Medway Maritime Hospital, but is defiant.
He said: "I have caught people doing drug deals before. People say I should leave it to the police but I can't just leave it.
"I would do the same again. This is my business for my customers who want to come here and enjoy themselves."
The incident happened at about 12.45pm on Saturday, September 29.
Police are appealing for witnesses and are particularly keen to speak to the man who was in the passenger seat.
DC Mark Silk said: "This is a serious incident where the injuries could have been a great deal worse.
"Any information will be treated in the strictest confidence and we are interested in speaking to a white man in a brown tracksuit who left the vehicle prior to the incident."
Anyone with information should call DC Silk on 101, quoting reference XY/029479/12, or Crimestoppers anonymously on 0800 555111.
A 21-year-old man from Peckham was arrested followed the attack and released on bail until tomorrow, Tuesday, November 13.