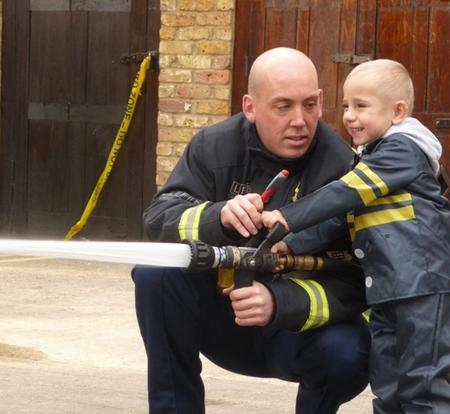 A four-year-old with serious heart problems has had his dearest wish fulfilled - by meeting Fireman Sam!
Daniel Quinn from Teynham near Sittingbourne was granted his dream by Starlight Children's Foundation, the charity for children with serious and terminal illnesses.
It comes after Daniel's doctors detected a heart defect when his mum Cathy was pregnant.
This led to him spending his first year in hospital - undergoing a number of operations.
Now, although he's able to attend reception class at Teynham School, he still needs a huge number of regular check-ups and visits to Royal Brompton Hospital.
Daniel also needs his pulmonary artery replacing every couple of years, which is due shortly.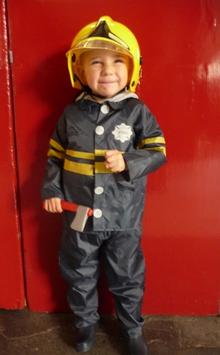 But the big love of his life is Fireman Sam. Every Christmas and birthday he only asks for presents relating to his favourite fire fighting character.
According to his mum, he loves reading and playing with his toys but the television has to be on the whole time so he can listen to Fireman Sam and use his toys to join in the rescue!
When a family friend asked Starlight to help out, there was only one thing for it - he had to visit a real fire stations and meet his hero, Fireman Sam.
The charity arranged for Daniel and Cathy to travel to London for a very special firefighting adventure with the team at Clerkenwell Fire Station. On arrival at the station, Daniel and his mum were introduced to the Green Watch and Daniel was given his very own fireman overalls and helmet.
During an exciting, all access tour of the fire station, Daniel was able to sit in the cab of the fire engine, experiment with the walkie talkies and operate the hoses, spraying jets of water against huge walls and even at some of the trainee firemen!
Just as the tour of the station was coming to a close, a familiar face appeared around the corner and soon Daniel was bounding towards Fireman Sam, his fire fighting hero!
Together, Fireman Sam and Daniel were taken upstairs by the station's firefighters for a Fireman Sam-themed lunch, complete with a fire engine cake that had "Fireman Sam's Little Helper" in white icing!
The great day was rounded off with a stay in the penthouse suite at the luxury Park Plaza County Hall Hotel, a visit to the Sea Life Centre and a flight on The London Eye.
After the wish, Cathy said: "I would like to thank everybody at Starlight for an amazing couple of days up in London. Daniel hasn't stopped talking about meeting Fireman Sam. Huge thanks also to Clerkenwell Fire Station, and Park Plaza County Hall - thank you all for making my son's dream come true."
Starlight grants once-in-a-lifetime wishes for seriously and terminally ill children, restoring the magic and fun of childhood and giving the whole family happy memories to share, whatever the future holds.
To find out more about the Starlight Christmas of Happiness, go online.
To make a donation, text WISH to 70123 to donate £3 to Starlight or to refer a child or to make an online donation go to http://www.starlight.org.uk/. For every £1 you donate over 91p goes towards helping Starlight's very ill children.