Drink driver Danny Holland gives a sobering message
A Sittingbourne man caught drink driving just before Christmas five years ago has put his sobering message on YouTube.
Musician Danny Holland, 26, from Kemsley, had his driving licence suspended for a year after being convicted of the offence in 2007.
As part of his sentence, Danny attended a course aimed at educating people on the effects of alcohol.

He's now helping to launch the Kent Christmas drink/drug drive campaign by speaking about his experiences and what he has learnt from them.
But Danny was arrested after downing just TWO PINTS of alcohol.
He said: "It's become very clear that people believe two pints is a safe/legal limit to drive on. I thought the same way five years ago and was convicted.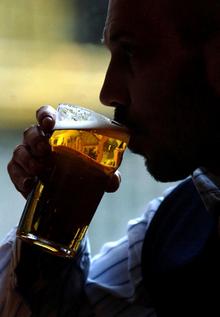 "People are shocked when I tell them this.
"I think most people have an image of what a drink driver is and think they'll be fine on two pints, it's not like they're drunk or anything.
Road safety team leader at Kent County Council, Stephen Horton, said: "It's not how much alcohol it takes to make you dangerous, its how little.
"There is no way to know when you're over the drink drive limit, not until you blow into a breathalyser held by a police officer – and then it's too late. We're saying to drivers, 'is it worth the risk?'

"Drink driving wrecks lives and not just the driver's.
"We want to make people think and act positively and to plan their journey – if you're drinking don't drive, if you're driving don't drink."

"Let's all have a great Christmas shared with our loved ones.
"Please remember, even one drink will affect your driving and could make the difference between a happy Christmas and a sad one."
---
---
Medway Council's portfolio holder for frontline services, Councillor Phil Filmer, said: "The campaign features a cheerful but poignant song to be aired on KMFM radio throughout December.
"We hope that it will help remind drivers that having one drink really isn't worth the risk.

"With many of us driving around Kent for work or family visits we would like to keep as many people well and happy this festive period by continuing to reduce road traffic collisions."