Youngsters are being urged to think twice before drinking and driving in Kent this festive party season.
The message comes as Kent County Council launch their Christmas campaign in schools and colleges across the county.
Students at MidKent College have been taking part in a test to simulate the effects of driving with alcohol in the system.
According to figures from KCC, last year 52 people were either killed or injured over the festive period in drink-drive related collisions in Kent.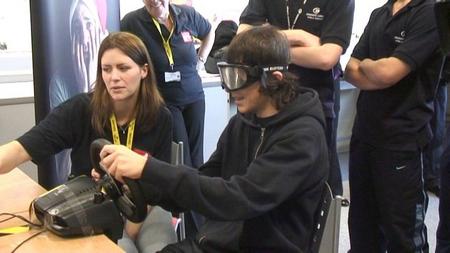 Between December 1 last year and January 1 this year there were 1,126 people breath-tested and 222 arrested.
Sgt Hannah Brown, from the Kent Police traffic unit, said: "The age group between 17 and 24 has been highlighted as being the age group most at risk from being killed or seriously injured on the roads in general.
"If we can target them as well as everyone else we run the chance of educating a wider population.
"Figures and statistics don't mean anything to youngsters.
"To actually experience it practically and realise the impairment you suffer even with just one pint actually makes people think.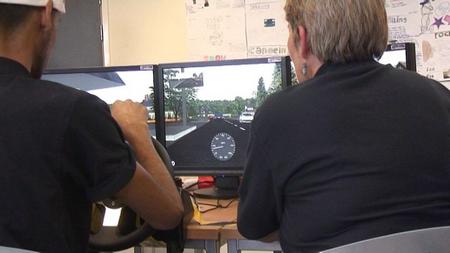 Steve Horton, Kent County Council's road safety team, said: "In December 2010 the figure for people injured in drink-related crashes was 10 and last year the figure was 16.
"It's always a concern when we see figures rise.
"We don't tend to look at numbers in isolation, we look for a trend.
"So we will be monitoring that trend to see if it will continue to rise or if last year was a blip.
"It just illustrates that people are still drink driving."
---
---
He said police wanted to get out the message that drink driving is not fun. They were targeting youngsters as they were the road users of the future.
If charged with driving under the influence of alcohol or drugs you could get six months' prison sentence, be banned from driving, get a criminal record and a fine of up to £5,000.
Adam Barnes was one of the students from Mid Kent College testing the driving simulator.
He said:"When I was driving with the beer goggles I found my reaction times slowing down.
"After doing all these practical tests today, I would never drink and drive. It has shown me the serious consequences of driving under the influence.