This is the dramatic moment a driver risked his own safety to steer his blazing lorry away from a busy high street.
Central Maidstone was transformed into something out of a Casualty scene when the driver spotted smoke billowing out of his HGV at 4.04pm yesterday.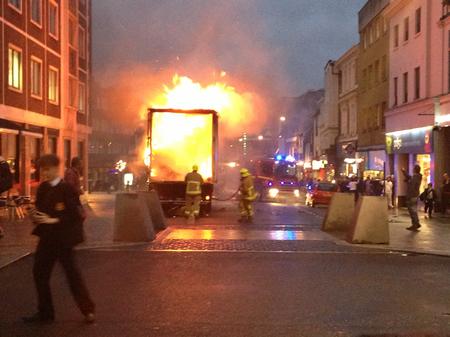 Disregarding his own safety, the trucker hops back into his smoking vehicle and drives it to a safer place nearby - as the lorry is engulfed in flames.
The lorry contained £100,000 of furniture.
Now the delivery driver has been hailed a hero for his quick-thinking actions.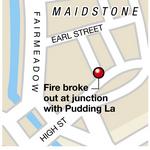 Crowds gathered as firefighters tackled the inferno that engulfed the HGV in Maidstone town centre.
The blaze broke out at the High Street's junction with Pudding Lane.
The High Street and Mill Street were cordoned off and 12 buses were evacuated.
Sophie Griffin, from Jessops in the High Street, said: "I smelt the smoke and thought it was our shop on fire. I came out and saw the lorry up in flames."
It is not thought anyone was injured.
Two fire crews were called to the blaze, but it's not thought anyone was injured.