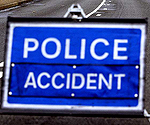 A driver has been rescued after a double decker bus was blown off the road by strong winds this afternoon.
Emergency services were called to Town Road, Cliffe, at 3.30pm after the vehicle landed in a ditch.
The Nu Venture bus had been travelling from Cliffe towards Chatham, but there were no passengers onboard.
Norman Kemp, a director at Nu Venture, said: "There was a huge gust of wind and the driver said the next thing he knew he was in the ditch.
"He wasn't injured, but he couldn't get off the bus so he had to wait for help to arrive.
"I think it is one of those things that can only be described as an act of God."
The driver had to be helped off the bus by police and another bus driver, who was passing the scene of the accident. A Kent Police spokesman said he was out of the vehicle by 4.15pm.
Police closed part of Town Road while the vehicle was recovered. Traffic was diverted along Littlechurch Road.
Did you see what happened? Phone the newsroom on 01634 227828.