A drug addict who supplied a fatal dose of heroin and then left the body in a garden wrapped in tarpaulin has been jailed for four years eight months.
Ben Phillips admitted manslaughter by gross negligence and was convicted of perverting the course of justice after denying that charge.
He also admitted possessing crack cocaine and heroin for personal use.
John Allen, who admitted the perverting charge, was sentenced to 20 weeks imprisonment suspended for two years, with 12 months supervision.
Judge Philip Statman told Phillips, of Luckhurst Lane, Smarden: "No doubt you will carry these events with you for the rest of your life."
Maidstone Crown Court heard Phillips, 33, "cooked up" the drug in a bedroom at his Ashford home and passed it to Jed Little, 34, to inject.
After the fatal dose, Phillips, 33, did not call for an ambulance but with the help of Allen, 58, of Beecholme Drive, Kennington, moved the body into the garden and covered and left it covered.
Ian Hope, prosecuting, said Phillips had been living with Allen's daughter Maria in St Theresa's Close.
In February last year she moved in with Robert Brewin in Orion Way, Willesbrough. All were drug users.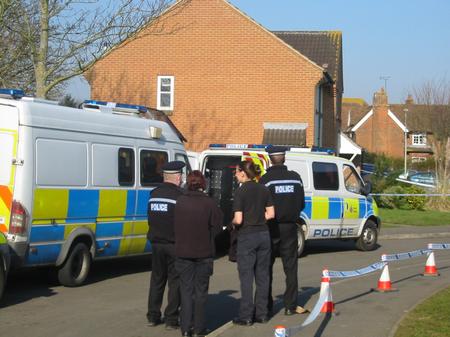 On March 7, Phillips visited the couple and told Miss Allen: "Jed's dead."
Mr Brewin and Miss Allen went to St Theresa's Close and found the bedroom in disarray and blood on the mattress.
John Allen was asleep at the back of the house. The couple looked in the garden and discovered the body under the tarpaulin.
They left and called the police.
Mr Hope said a post mortem examination revealed Jed, of Hythe Road, Ashford, choked to death after overdosing on heroin.
Phillips at first claimed he knew nothing about it. He later admitted cooking up the drug and handing it in a syringe to Jed.
A couple of hours later, Allen went into the bedroom and Phillips told him Jed had died.
They took a plastic sheet from a cot, wrapped it around the body and carried it downstairs. Phillips said he did not call the police because he was scared.
He told how he went to sleep after placing the body in the garden.
Phillips was sentenced to four years for manslaughter and eight months consecutive for perverting the course of justice.