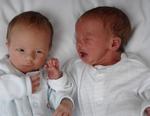 A toddler who contracted the E-coli bug has been released from hospital - after six weeks!
Two-year old Aaron Furnell suffered acute kidney failure following a visit to Godstone petting farm, in Surrey.
He and twin Todd, from Paddock Wood, had to be put on dialysis at St Thomas's Hospital in London as a result of being infected.
He contracted the bug along with his twin brother Todd, and he still has to be fed food through a tube.