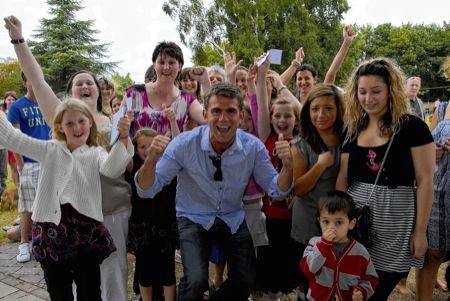 Eastenders star Scott Maslen is a new patron of Canterbury-based Kent Kids Miles of Smiles.
Scott, who plays Jack Branning, was introduced to staff and supporters of the children's charity on Sunday, during a music festival in the garden of the charity's Redwalls building in Stodmarsh Road, Canterbury.
The day saw eight live acts, a cake stall, a barbecue, licensed bar and other summer fun.
Scott said: "I stumbled upon Kent Kids during a fishing competition and I was really touched.
"It's an amazing place and I can't believe it doesn't get any funding so it's our job to make this place bigger and to help more families."
Kent Kids was founded in 1993 to care for sick and disabled children, since then the charity has grown and now runs Footprints a care home for children aged 3 to 17 years old and Redwalls.
Head of fund-raising Liz Baxter took Scott on a tour of the facilities before introducing him to the 200-strong crowd.
She said: "I would like to thank everyone who supported us, the eight bands who played and the 10 staff from HSBC who have given up their time to help."
Log on to miles-of-smiles.org.uk for more details or to see how you can help Kent Kids.