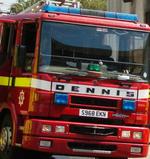 Young people are thought to be responsible for 46 fires across Kent in just the first week of the Easter holidays.
Therefore it's suspected more than four fires are being set by people under the age of 17 EVERY DAY.
In total, firefighters have attended 119 outdoor fires, involving rubbish, grassland, bushes and trees from the start of the school holidays on March 31 up until yesterday.
Of these 85 are believed to have been started deliberately and it is suspected that young people are responsible for over half.
Stuart Skilton, KFRS community safety manager, said: "Whether started deliberately or through carelessness, these fires can easily spread out of control, destroying wildlife and putting people's lives, including those of firefighters, and property at risk.
"The consequences for individuals caught committing arson are serious and can result in large fines or several years in jail – possibly a life sentence if someone is killed as a result of their actions."
Problem areas over previous years have included Old Park in Canterbury and Dartford Heath.
Members of the public are advised to not discard cigarettes out of car windows and to extinguish barbeques and bonfires properly.
Parents should keep matches and lighters out of the way of young people, not leave youngsters to wander in the countryside unsupervised and ensure that they are aware of the dangers of fire.