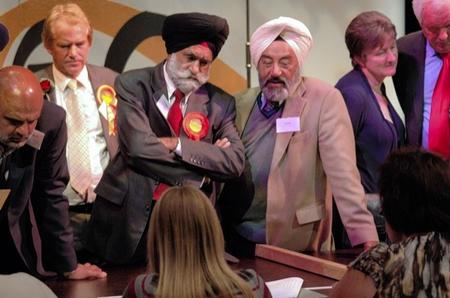 Kent's political map was redrawn today with the Conservatives losing overall control of two key councils.
The first major upset of election night saw Gravesham falling to Labour.
Party leader Ed Miliband then made another appearance in the town to congratulate his activists.
It was the third time in three weeks he's been there.
Shortly after 8am, results from Thanet showed the council was left in no overall control.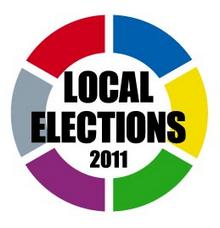 The Tories won 27 wards - one more than Labour - leaving the balance of power with three independent councillors.
One key ward was won by just two votes.
Click here to see the full results in Thanet.
In Gravesham, Labour has taken control of the council from the Conservatives, with 25 seats to Labour and 19 Conservative.
Labour credited national disatisfaction with the Tories for the result.
Meanwhile, elsewhere in the county, ward results have been trickling in throughout the day.
In Swale there has been a shock in the shape of long-standing Lib Dem councillor Elvie Lowe losing her set to Labour rival Tony Winckless after 24 years.
She believes it is a reflection of what is going on nationally and how unhappy everyone is with the Liberal Democrats.
She said: "I had seen it coming so I had got myself ready for it but I'm still very disappointed."
In Shepway, a clean sweep for the Tories saw them increase their majority on Shepway council.
The Conservatives won 44 seats, up five from last time, with Liberal Democrats losing all their five wards to come away with nothing.
The People First party retained their two seats, while Labour walked away without a seat.
While Tories celebrated, the night was a personal disaster for Lib Dem group leader Lynne Beaumont, who lost both her district and town council seats.
Fighting back tears, she said: "I think people voted on national issues rather than local.
"People are not happy with what is happening nationally and it is hard when nationally you are an unpopular party."
Tory MP Damian Collins, who was at the count, said: "It has been a good night and a reflection of what the council has done in the last four years."
In Medway the Conservatives have held onto power. They increased their seats and now have 35 councillors.
Labour have 15, Liberal Democrats three and there are two Independents.
That gives the Tories an overall majority of 15 - compared to 11 before the election.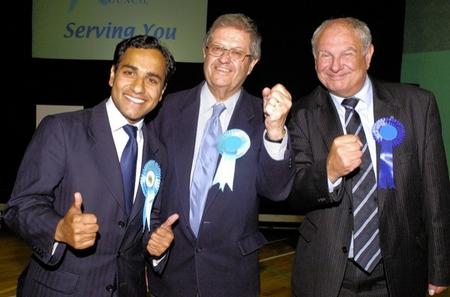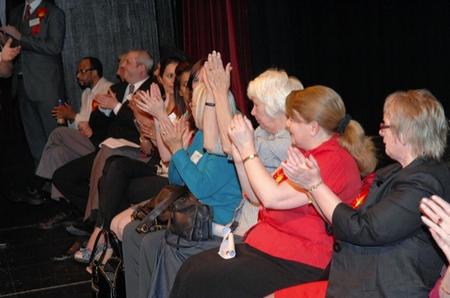 Results announcements were hampered by a delay in clearance from the AV regional returning officer.
The Tories also held on in Dover and Tunbridge Wells.
And in Dartford, it was a clear victory for the Tories - with the Blues securing three times more seats than Labour.
The final result showed the Conservatives won or retained 31 wards, with Labour securing 10 seats and Swanscombe and Greenhithe Residents' Association winning four wards.
Geoffrey Prout, Labour leader, said: "We are disappointed as we lost three seats. It was a tough election. It wasn't good for us. We gained extra votes in some areas so in some ways we are making improvements."
Jeremy Kite, Conservative leader, said: "We are absolutely delighted. It shows that the public think we are a council that delivers."
The English Democrats put forward 24 candidates in Dartford's elections, the highest in the whole of England. But not one was elected.
Meanwhile around Canterbury, Tories were came out on top as early results were recorded this morning.
The Conservatives retained control of Canterbury city council - and taken an extra eight seats.
Out of the 50 seats which were up for grabs, the Conservatives took 37, the Liberal Democrats took 10 seats and the Labour party took three.
It is a disappointing result for the Lib Dems, who lost nine seats, but positive for Labour, who gained one seat.
Meanwhile, in Swale, blue is definitely the colour, with the Conservatives retaining control of the borough council.
With all 47 wards declared, the Tories have 32 seats followed by Labour on 13 and Lib Dems on one.
There are also an independent.
A shock was the defeat of long-standing Lib Dem councillor, Elvie Lowe, after 24 years representing Milton Regis.
She feels she is a victim of the nationwide anti-Lib Dem feeling.
One of the Murston seats had to be decided after six recounts.
Dave Banks and Ed Gent were drawn at 420.
Eventually, they agreed that was the figure and so both names were written down and returning officer Abdool Kara pulled one of them out - which was classed as an additional vote. Ed's name came out.
He said: "I am very proud to be an elected member again.
"I expected it to be close, I thought maybe 15 or 20, but not to be dead at 420.
"I had my name pulled out which means I get to represent my ward for another four years."
Mr Banks said: "I feel gutted. If I had lost by 50 or 60 votes it would not have been so bad. But to go out like this is a horrible feeling.
"I have to accept the verdict because they recounted so many times and that was the only way to decide."
For Sheppey and Sittingbourne wards, visit http://www.timesguardian.co.uk/
Ashford's Conservatives strengthened their hold on the borough council, increasing their overall majority from 15 to 17 in the election.
The Tories won 30 out of 43 seats, up from the 28 gained in the 2007 poll.
Ashford Independents increased their seats from four to just five despite launching a major challenge to the administration over the scale of local housing development.
Labour bounced back gaining five seats against two in 2007.
And the Liberal Democrats were flattened, with their count diving from seven to two.
In Tonbridge and Malling the Conservatives trounced the opposition, with 48 Tories voted in, against four Liberal Democrats and one Labour member.
All 53 borough council seats were up for grabs, with eight councillors standing down, 12 new councillors elected and 41 councillors re-elected.
Out of a total borough electorate of 89,146 people, 39,966 (44.83%) turned out to vote.
Voters were also deciding whether to back plans to change the way in which MPs are elected, with a referendum on whether the current first past thee post system should be replaced with the alternative vote.
Across Kent, a total of 517 council seats were up for grabs.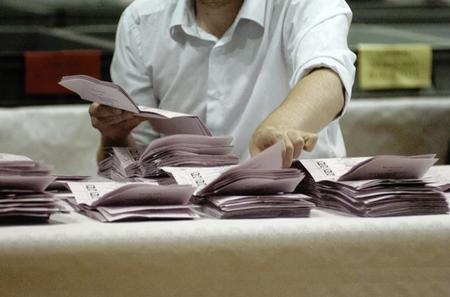 There were all-out elections in 12 councils while a third of council seats were up for grabs in Maidstone and Tunbridge Wells.
Medway council also held an election with all 55 seats in the unitary authority being contested.
The polls are seen as the first comprehensive test of public opinion since the general election.
Keep in touch with all the breaking election news with our political editor Paul Francis on Twitter @PaulOnPolitics.