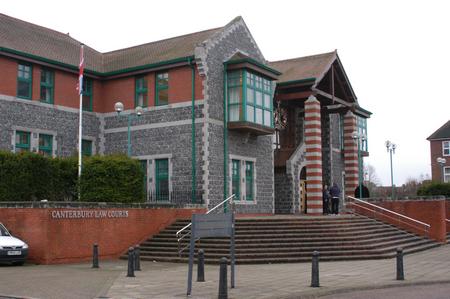 by Paul Hooper

A Birchington electrician proved he wasn't the brightest spark after smashing his van into two police cars... on two wheels!
Andrew Wimsett, 28, tried to steer his vehicle between the cars, but got his wires crossed and smashed into them both - injuring an officer, Canterbury Crown Court heard.
Wimsett, of Berkley Road admitted driving dangerously and failing to provide a specimen of breath and was given a suspended jail sentence.
Prosecutor Jim Harvey told how the sozzled sparky was spotted driving his white Astra van in Canterbury Road "from side to side" – and two police officers decided to stop the vehicle.
But Wimsett refused to slow down and travelled onto Minnis Bay where the officers called for back-up.
In Station Road the first police vehicle blocked the road to protect drinkers at a nearby wine bar who had spilled out onto the pavement to " look at the commotion."
The prosecutor added:"The vehicle appeared to slow down before accelerating hard before driving into the marked police van. It travelled over the top of it with two wheels in the air and rammed the second vehicle."
"he was trying to get through a gap which wasn't there and now accepts he was being reckless" – phil rowley, defending
Mr Harvey said that injured officer Fay Davis was taken to Queen Elizabeth the Queen Mother Hospital where she was treated for whiplash injuries.
"When Wimsett was arrested he smelt strongly of drink and was aggressive, refusing to take a breath test, " he added.
Phil Rowley, defending, said: "In his addled brain, he was worse for drink.
"He thought he could pass through a gap between the police vehicle and the pavement.
"He was trying to get through a gap which wasn't there and now accepts he was being reckless."
Judge Nigel Van der Bijl said: "This was an appalling piece of driving under the influence of drink. It could have been a lot worse if the police hadn't blocked the road."
Wimsett was given a one-year jail sentence suspended for two years, ordered to do 150 hours of community work.
He was also disqualified from driving for three years, fined £200 and told to pay the officer £200 compensation.