Spooky sparky Carl Underdown is facing prison... two years after he was nabbed whistling the Queen hit song Don't Stop Me Now while secretly filming up women's skirts.
The 25-year-old pervert, pictured left, was caught secretly videoing in Morrison's supermarket in 2010.
Now he has admitted groping a schoolgirl's breasts.
Former electrician Underdown, of Western Esplanade, Herne Bay, has been told to expect a "significant term of imprisonment" after admitting sexually touching the teenager.
Canterbury Crown Court heard the incident, which happened in September last year, took place at a shelter on Herne Bay pier.
The sexual assault was committed while he was subject to a suspended jail sentence.
He changed his plea to guilty on the day his trial was due to start and will now be sentenced in January after a judge ordered the preparation of probation and psychiatric reports.
Judge James O'Mahony told Underdown he had been granted bail until the sentencing hearing "by the skin of your teeth".
In October 2010, he was given a 120-day jail sentence - suspended for two years - after he secretly videoed 16 women in the Beach Street supermarket.
His lawyer at the time, Keith Betts, told magistrates: "He had been employed as an electrician and working for the family firm - work that, following his court appearance, was affected by coverage in the Press.
"It became clear that people employing his family's company were aware of the offences and his family had to sack him for the sake of the business."
Underdown's perverted secret filming was discovered in July 2010 after he was spotted prowling supermarket aisles with his iPhone.
A young mother was shopping with her daughter when she noticed him kneeling beside her at the bread counter.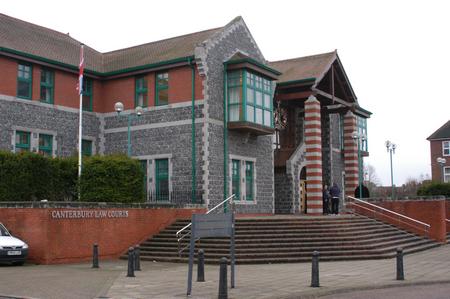 She said: "He was crouched down on his knees with an iPhone in his hand. I could see the camera bit poking out of the case. He was so close he could have actually put his head up my skirt.
"He was whistling the Queen song Don't Stop Me Now. I thought 'Don't stop you? I just want to punch you'."
The frightened woman moved away, but the persistent pervert followed.
She said: "Every time I looked round he was there crouched down with the phone out. I just wanted to cry.
"I thought the staff knew what he was up to because they looked like they were watching him, but he didn't seem to care."
The woman alerted staff and Underdown was arrested after returning to the store five days later.
Clips of the 16 women were found on his phone.
The court was told Underdown's life had been turned upside down since his arrest.
Mr Betts said: "Not only has he lost his job, but he's lost most of his friends as well.
"People just don't want to associate with him. It's something he has to accept as a consequence of his actions."
Betts added Underdown had gained "no sexual gratification whatsoever" from the videos and had no intention of posting them on the internet.