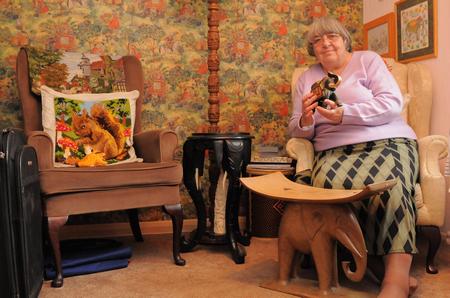 by Nicola Jordan
The elephant is regarded as sacred by millions of Hindus worldwide.
Closer to home, Maureen Davey has her own shrine to the giant mammal.
The 63-year-old has more than 3,000 models of elephants of all shapes and sizes crammed into her flat in Rochester.
Carpets, wallpaper, mugs, jugs, door knobs, toilet roll holder, tea towels - everywhere you look there are jumbos.
Maureen lives and sleeps elephants – her bed headboard features the creatures – and she's the first to admit she's jumbo bonkers.
When she met her husband Doug on a coach holiday in Switzerland, it was his chat-up line 'Can I come round and see your elephant collection?', that led to them getting married.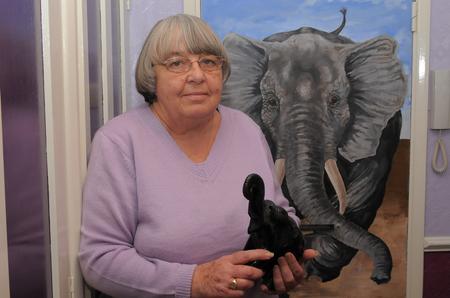 Maureen's giant passion started when she was just eight when her father gave her a pack of cards featuring her four-legged friends.
She said: "I've always loved all animals and wanted to be a vet.
"But there was something special that sparked straight away. I was fascinated by the way they are so like us and are so family orientated."
Since then, deciding what to buy Maureen for birthdays and Christmas has never been a problem for friends, family or 65-year-old Doug.
Her mammoth passion has taken the couple around the world. She's been to Thailand, home to the unique white elephant and ridden elephants in Sri Lanka.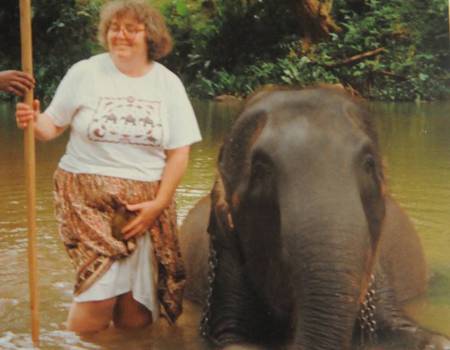 Doug's 50th birthday gift to his wife was spending four hours with the elephants at London Zoo.
She said: "It was one of the best experiences I have had being so close to them. I have no fear of them and I don't actually understand how people can be scared."
Much of her spare time is spent trawling around charity and antique shops for elephant memorabilia and sewing her elephant-themed tapestries.
Once inside her one-bedroom apartment, visitors have to squeeze past four large glass cabinets crammed with elephantine paraphernalia.
Maureen said: "It takes me at least four hours to dust, but it's worth it. I know I'm nuts, but I can't watch Dumbo without a box of tissues."
Have you got a passion for elephants or another animal? Let us know below.