It's a mammoth task, but one which any parent would take on if it meant finding life-saving treatment for their child.
Warren and Samantha Mowle need to raise £500,000 to fund specialist care neither available in the UK nor funded by the NHS for their seven-year-old daughter Stacey.
The couple were given the devastating news just five days before Christmas that the youngster had relapsed neuroblastoma, a rare form of childhood cancer.
She was first diagnosed in May 2010 and underwent almost two years of treatment, including chemotherapy, radiotherapy and surgery.
Doctors told the Gravesend family at the time that Stacey had an aggressive form of cancer with an 80% chance of relapse, but in December 2011 scans showed she was clear.
That same year she met the Duke and Duchess of Cambridge when they visited the Royal Marsden Hospital in Surrey where she had been treated.
neuroblastoma facts
neuroblastoma is a very aggressive type of childhood cancer of the nervous system and can affect every part of the body.

the disease affects about 100 children each year in the uk, mostly under the age of five. it usually starts in the child's abdomen but can spread to other areas such as bones, liver and skin.

families against neuroblastoma is a registered charity offering assistance, support and advice.

But Stacey began to feel ill shortly after her birthday in November last year.
Warren, 39, and Samantha, 31, have now joined forces with charity Families Against Neuroblastoma to launch the Stacey Mowle Appeal and raise the cash to send her to either the US or Germany.
Warren said from the family home in Trafalgar Road: "For me and Sam to find out Stacey had relapsed just before Christmas was heart-breaking.
"It's always at the back of your mind that it could happen but when we got 13 months down the line we were thinking 'great'.
"The day after her seventh birthday we realised something wasn't right and she just deteriorated. Her consultant said he wanted to do a scan just to be on the safe side.
"The next day, just five days before Christmas, we got the results and it wasn't good.
"What Stacey has already been through is unbelievable and the amount we need to raise is absolutely massive but it would rip me apart if we didn't.
"If everyone in the county gave me £1 in a text donation it would be over."
Stacey, a pupil at Shears Green Infant School, is now having further chemotherapy.
Scans to be taken at the end of this month will reveal whether she has stabilised.
One treatment they hope to explore in Germany involves combining stem cells from the child and a parent.
He said: "When Stacey was first diagnosed there was a protocol for treatment to be paid for by the NHS. Unfortunately, there are no drugs available for children in this country who have relapsed neuroblastoma."
Since the appeal was launched two weeks ago, more than £4,800 has been raised. Go to Stacie's justgiving site. Donations of £1 to £10 can also be made by texting STAC53 (followed by the amount) to 70070.
---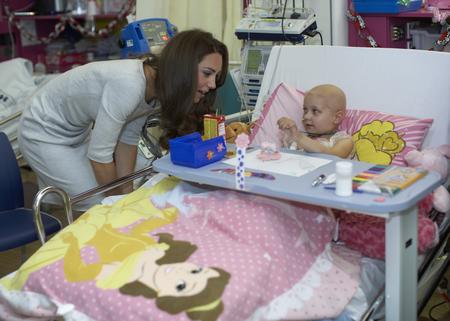 Stacey has new friends in high places!
The Duke and Duchess of Cambridge have sent a goodwill message to Stacey after the Messenger contacted St James's Palace to inform them of her plight.
The youngster and her family met the royal couple when they opened a new cancer centre at the Royal Marsden.
A spokesman said: "Their Royal Highnesses the Duke and Duchess of Cambridge remember Stacey from their visit to the Royal Marsden Oak Centre for children in September 2011 and wish her well with her treatment."
During their visit, the Duke and Duchess specifically asked to meet Stacey after she and her dad Warren took part in a photoshoot for the hospital's cancer charity website.
While Prince William chatted with Stacey's nine-year-old brother Jake about football, Kate made craft princesses with the youngster.
Stacey told the Messenger: "I was so happy to meet a real prince and princess. I made her a little fairy princess that she took away and said she would put it on her sideboard.
"I was so excited and it made me very happy."