A petrified two-year-old screamed hysterically as her family's car was surrounded by police armed with machine guns.
Frightened Scarlett Johnson cowered in the back seat as officers pointed the weapons just inches from the window in a shock siege at a Sturry Road petrol station.
Her stunned mum Melissa Stannard – who was handcuffed and frogmarched across the forecourt – has told how she thought she was going to die as the police screamed: "Step out of the vehicle!"
The ordeal was sparked after her partner Aaron Johnson was alleged to have had a gun in a row with neighbours.
But the 27-year-old was released without charge after a night in cells at Canterbury police station, where he claimed the 'gun' was a mobile phone inside a beenie hat.
Speaking exclusively, the fishing bait salesman, of The Elders, Littlebourne, said he was furious at the waste of police time.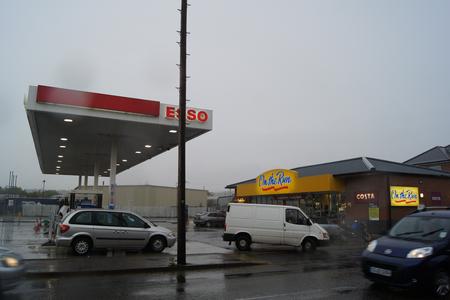 He said "I've lost a day's wages, my daughter was terrified and my home has been searched. I told the police the only gun they'd find would be a water pistol in the bathroom.
"We've been having problems with some neighbours since we moved in a few months ago. I was just going to Westgate to sell some fishing bait when they started again.
"I went and got my phone and had it in my hat as I was going to record what was being said. The next thing I knew they were shouting 'Oh my god he's got a gun!' and were on the phone to the police. It was ridiculous."
Following the dispute, the couple set off to Westgate with Scarlett in the back seat. After dropping off the fishing bait and heading back to Canterbury, they noticed a police van following them closely.
"if it wasn't so terrifying it would have been funny" – melissa stannard
Within minutes it was joined by a 4x4 and two more police cars, tailing the family along Sturry Road.
Mum-of-two Melissa, 27, said: "When we pulled into the Esso station the police suddenly screeched around us and the next thing I knew was there were machine guns feet from the windscreen. They were shouting 'don't move! Turn off the engine!'
"The funny thing was even when I turned the engine off the radio wouldn't stop and I couldn't hear them properly, although it was pretty clear what the orders were.
"They were shouting 'Step out of the vehicle slowly' but I was worried if I undid my seatbelt I'd get shot.
"They got me out and handcuffed me. They'd taken Aaron across to the other side of the forecourt.
"Scarlett was still screaming in the back seat. They tried to get her out but couldn't and this armed policeman was shouting: 'Do you know how to undo the car seat?' If it wasn't so terrifying it would have been funny."
After a police search of the couple's home, garden, shed and Aaron's sister's house failed to reveal any weapon, he was released without charge.
Police confirmed a 27-year-old man had been arrested and released without charge due to insufficient evidence and no gun was found.
DCI Nick Gossett said: "Any report of a firearm will be taken extremely seriously and callers will be asked to provide as much information as possible so that the appropriate police resources can be sent to the call."