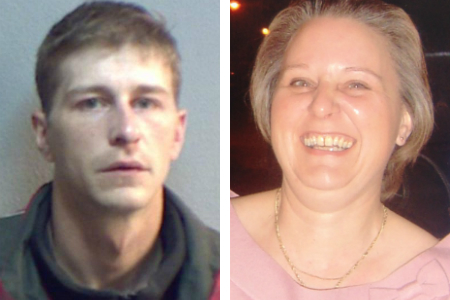 A fantasist who strangled his mother believing he was an SAS operative with a licence to kill has today been detained indefinitely.
Gary Sturt, 32, thought his devoted and loving mother Annette worked for the IRA – and had cheated him out of his multi-million pound inheritance.
A judge ruled Sturt, of Clarenden Street, Dover, was suffering from paranoid schizophrenia when he killed the 49-year-old at her home in Prescott Close, Guston.
He denied murdering his mother, but pleaded guilty to manslaughter on the grounds of diminished responsibility.
Mrs Sturt had been bludgeoned with a blunt instrument and strangled – before her body was found covered in a duvet in her garden shed on May 20.
Warning psychiatrists believe Sturt still poses a "high risk to the public", Judge Adele Williams ordered Sturt be detained indefinitely under the Mental Health Act at Canterbury Crown Court.
Sturt, flanked in the dock by nursing and security staff, looked emotionless as he was told it will be for the Home Secretary to decide if will ever be released from high-security Broadmoor Hospital.
Judge Williams told him: "This case is more about human tragedy than it is about human wickedness. She gave you a mother's love and always tried to love and support you, but you cut her life short.
"You pose a serious risk of harm to the public. No one can predict whether it would ever be safe for you to be released into the community.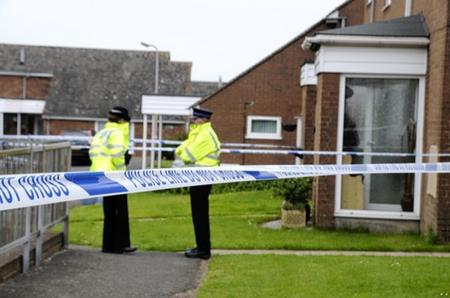 "You have shown so very little insight into the crime you have committed.
"If there ever comes a time for you to be considered for release, it would be for the Secretary of State to decide."
Mrs Sturt's family - including husband Ian - wept in the public gallery as she was described as "a very intelligent, hard working and decent human being who was much-loved by her family".
The judge said relatives described their "loss, despair and emptiness" and said their statements were "heart-wrenching".
She added: "Nothing I say nor the sentence I pass can diminish that sense of loss or grief."
The court heard heavy cannabis user Sturt was suffering from paranoid schizophrenia and psychosis when he killed his mother.
Medics had said his cannabis use might have contributed to his symptoms, but the judge said this was not the sole factor.
And it was revealed Sturt had previously made threats to kill his parents - but his partner did not know if to take them seriously.
Paul Taylor, prosecuting, told the tragic story of how a delusional son murdered his mother.
Sturt's partner and mother-of-four Joanne Smith had spoken to Annette earlier that day to ask if she would stand guarantor for a home she wanted to rent.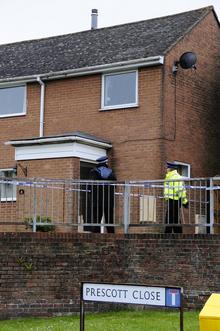 Mr Taylor said at some time in the afternoon, Sturt - who was heavily in debt - went to his mother's house.
Between 7.30pm and 8.30pm, neighbours heard "banging and thudding" – and at 8.15pm husband Ian had telephoned his wife from work, but got no reply.
Mr Taylor added: "Eventually Ian called again and spoke to Gary, who told him: 'She's alright, but we had an argument and I hit her. Now she's at Jo's mum's. Mum has told me to stay here with you tonight.'"
But the court heard police later found evidence Gary was planning to kill his father as well – placing a kitchen knife near the front door.
Mr Taylor said the body of Annette – which had been struck with a blunt instrument before being strangled – was found covered in a duvet in a shed.
He said Sturt's life had been dominated by growing delusions, "which would not have been helped by his heavy cannabis use - using 10 joints a day".
Mr Taylor added: "He lived a fantasy life. Long before that night he was telling friends that his parents had farmed him out to paedophiles who repeatedly raped him.
"This did not happen and he now realises that it didn't happen.
"He also claimed he had inherited properties in the USA which would have been worth millions of pounds but his mother had conned him out of his multi-million inheritance. That, too, was untrue."
"this is a case of human tragedy rather than wickedness" – judge adele williams
As he was being treated for depression and anti-social personality traits, he slipped into paranoid schizophrenia and in May "the combined two delusions of the SAS man on a mission and denied inheritance" led to the killing of his mother.
After repeatedly denying his mother was at home, claiming she had gone to hospital, Sturt eventually spoke to his partner telling her: "Job's done."
She got to Prescott Close at 9.45pm, where she found him covered in blood and wiping down the porch walls.
He them told her he was "going to do" his father when he arrived home and police officers later found the knife on a dresser unit.
When arrested, Sturt told police: "You cannot arrest me for what I have done. I have a licence to do this... a licence to kill".
He told stunned officers: "The IRA bitch is dead!"
Dorian Lovell-Pank QC, defending, said: "This is a shocking tragic case. It is unusual for a son to kill his mother and she was a devoted mother. But he was in the grip of a complex and violent delusions."
Speaking after the sentencing, Det Insp Chris Carter from the Kent and Essex Serious Crime Directorate said: "Any premature death is tragic but this crime is particularly so given the relationship between the victim and offender.

"Annette's family, who attended court throughout, have been left without a wife, sister, daughter, aunt and niece. It is an extremely sad case.
"It is only right that Sturt is now treated at a secure unit at Broadmoor Hospital indefinitely. He can only be released by order of the Home Secretary."