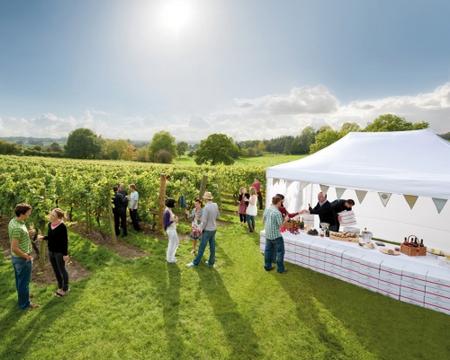 "Farcical".
That's how one South East MEP has dubbed the EU rules which forbid a Kent winery from calling its alcoholic grape drink a wine.
Chapel Down vineyard in Tenterden imported grapes from Argentina intending to create a Kent Malbec wine for World Malbec Day.
The grapes were fermented and then matured for nine months in oak, to produce a drink called An English Salute.
But under EU rules, they have been told they can only call the tipple a "fruit based alcoholic beverage".
Now UKIP MEP for the South East, Nigel Farage, has written to the European Commission asking them to see sense.
But he claims the rules are there to stop the big grape producers in Europe facing competition from the rest of the world.
The UKIP leader said there was "half a chance" the EU might see sense over Kent's wine quandary.
The company has been forced to give the bottles away so as not to fall foul of the law. Nigel Farage says it is an absurd situation.
Mr Farage has invited the winery to come and set up stall at the European Parliament to put pressure on EU officials.
Speaking earlier, Chapel Down chief executive Frazer Thompson said: "This is a chance for fans of English and Argentinian wine to get their hands on something that is genuinely unique.
"This wine will, quite literally, be impossible to buy. We've had loads of inquiries from buyers, but I'm afraid that we can't sell it, only give it away as samples, so we have decided to do just that."
Despite rising tensions between Argentina and Britain over the Falklands, the link with the Gaucho estate, near Mendoza, came about when the Argentines were looking for wine makers to collaborate with.
Guy Tresnan, sales and marketing director at Chapel Down, said: "We went to Mendoza to select the grapes, which were vacuum-sealed and flown over.
"It was a great opportunity for our winemakers to work with theirs and vice versa."