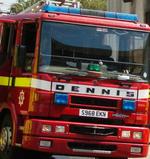 by James Scott
A fire broke out in a science laboratory at an Ashford school this morning.
Three fire engines were called to Highworth Grammar School at about 6am after a caretaker discovered the blaze.
Crews from Ashford and Folkestone went to the school, in Quantock Drive, after reports a science classroom was full of smoke.
Firefighters wearing breathing apparatus used a hose reel to extinguish the blaze in a heavily smoke-logged by 7.50am.
Head teacher Paul Danielsen said: "The fire brigade were called immediately and they quickly put out the fire. The cause is being investigated but it looks like an electrical fault – possibly a faulty power supply."
He added the school was open as normal, but a classroom would have to be refurbished.
No students had to be evacuated and no injuries were reported.